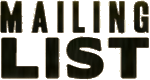 Send us an e-mail to be added to our mailing list.







souljazz@hotmail.com







The Souljazz Orchestra
on Twitter







The Souljazz Orchestra
on Facebook







The Souljazz Orchestra
on MySpace







CD Baby
Strut Records
Do Right! Music
Marlow Records
Slim Moore
People Project
Phil Motion
Zakari Frantz
Timekode





"Top International Album of 2014" (#1): Inner Fire
- !earshot 2014 Year-End Radio Charts, Canada



"Top Jazz Albums of 2014" (#2): Inner Fire
- !earshot 2014 Year-End Radio Charts, Canada



"Top World Albums of 2014" (#12): Inner Fire
- CMJ 2014 Year-End Radio Charts, USA



"Top Jazz Albums of 2014" (#12): Inner Fire
- CMJ 2014 Year-End Radio Charts, USA



"Top Jazz Albums of 2014": Inner Fire
- AllMusic, USA



"Top Albums of 2014": Inner Fire
- DJ Patrick Forge, London UK



"Top Albums of 2014": Inner Fire
- DJ Jeremy Sole, KCRW, Los Angeles CA



"Top Albums of 2014": Inner Fire
- Pop Matters, USA



"Top Soul/R&B Albums of 2014": Inner Fire
- Exclaim!, Toronto, ON



"Top Albums of 2014": Inner Fire
- Le Mellotron, France



"Top Albums of 2014": Inner Fire
- Radio Mukambo, Brussels, Belgium



"Top Albums of 2014": Inner Fire
- African Jazz, London UK



"Top Albums of 2014": Inner Fire
- Anatoly Ice, Moscow, Russia



"Top Albums of 2014": Inner Fire
- Alternative Sound, France



"Top Albums of 2014": Inner Fire
- The Suite Delight, Montreal QC



"Top Albums of 2014": Inner Fire
- Global A Go-Go, Richmond VA



"Top Albums of 2014": Inner Fire
- Campus FM, Toulouse, France



"Top Albums of 2014": Inner Fire
- Sparse, Dijon, France



"Top Albums of 2014": Inner Fire
- KUSP, San Francisco CA



"Top Albums of 2014": Inner Fire
- CKUA, Edmonton AB



"Top Albums of 2014": Inner Fire
- KUSF, San Francisco CA



"Top Albums of 2014": Inner Fire
- David Dalle, CKCU, Ottawa ON



"Top Albums of 2014": Inner Fire
- Global Village, KMUW, Wichita KS



"Top Albums of 2014": Inner Fire
- WXDU, Durham NC



"Top Albums of 2014": Inner Fire
- Allan Laskey, WWOZ, New Orleans LA



"Top Albums of 2014": Inner Fire
- Mixgrill, Greece



"Top Albums of 2014": Inner Fire
- De la lune on entend tout, France



"World Music Album of the Year": Solidarity
- 2013 JUNO Awards, Canada
(Nominee)



"World Music Album of the Year": Solidarity
- 2013 Indie Awards, Canada
(Winner)



"#1 Album of 2012": Solidarity
- Paris DJs, Paris France



"#1 Album of 2012": Solidarity
- DJ Solespin, CJLO, Montreal QC



"#1 Global Grooves Album of 2012": Solidarity
- Record Racks, Indianapolis IN



"Top Tracks of 2012": Cartão Postal
- DJ Gilles Peterson, BBC Radio 6



"Top International Albums of 2012" (#2): Solidarity
- !earshot 2012 Year-End Radio Charts, Canada



"Top World Albums of 2012" (#10): Solidarity
- CMJ 2012 Year-End Radio Charts, USA



"Top World Albums of 2012": Solidarity
- CBC Music, Canada



"Top Groove Albums of 2012": Solidarity
- Exclaim!, Toronto ON



"Top Big Band Albums of 2012": Solidarity
- Ben Robertson, African Jazz



"Top Albums of 2012": Solidarity
- Vibrations Magazine, France/Switerland



"Top Albums of 2012": Solidarity
- Village Dance Radio, Berkeley CA



"Top Afrobeat Albums of 2012": Solidarity
- This World Music, Cambridge MA



"Top Albums of 2012": Solidarity
- 25thC, Something You Said, UK



"Top Albums of 2012": Solidarity
- The Afrobeat Blog, Buffalo NY



"Top Albums of 2012": Solidarity
- Music Lodge, France



"Top Albums of 2012": Solidarity
- Bryan Raydio, Halifax NS



"Top Albums of 2012": Solidarity
- Peace & Rhythm, Amherst MA



"Top Ass-Shakers of 2012": Serve & Protect
- Kept Records, Calgary AB



"Video of the Week": Conquering Lion
September 21st, 2012
- National Geographic, Washington DC



"Album of the Week": Solidarity
September 4th, 2012
- Fonkadelica, Angers France



"Video of the Week": Ya Basta
August 31st, 2012
- National Geographic, Washington DC



"Top Bands of 2011"
- Ottawa XPress, Ottawa ON



"Top Concerts of 2011":
April 14th, gazARTE
- Radio Kosmos, Athens Greece



"2011 Instrumental Album of the Year":
Rising Sun (Nominee)
- Juno Awards, Canada



"#1 Album of 2010 by a Canadian Band" and
"Top 10 Albums of 2010": Rising Sun
- CBC News, Canada



"Top 10 Albums of 2010": Rising Sun
- Chris Burland, CHARTattack, Toronto ON



"Top 10 Albums of 2010": Rising Sun
- Paris DJs, Paris France



"Top Albums of 2010": Rising Sun
- Piccadilly Records, Manchester UK



"Top 10 Albums of 2010": Rising Sun
- DJ Jeremy Sole, KCRW Radio, Santa Monica CA



"Best Albums of 2010": Rising Sun
- DJ Ennio Styles, RRR Radio, Melbourne Australia



"Best Albums of 2010": Rising Sun
- Highlife World Music, Vancouver BC



"#1 Jazz Album of 2010": Rising Sun
- Scratched Into Our Souls, Los Angeles CA



"Best Albums of 2010": Rising Sun
- Bending Corners, USA



"Top Albums of 2010": Rising Sun
- Sun On The Sand, Canada/USA



"Top 10 Albums of 2010": Rising Sun
- Global A Go-Go, WRIR Radio, Richmond VA



"Best Albums of 2010": Rising Sun
- American Atlete, San Francisco CA



"Top Albums of 2010": Rising Sun
- Vibes4YourSoul, Paris France



"Top Tracks of 2010": "Agbara"
- Solesides, San Francisco CA



"Top Tracks of 2010": "Rejoice, Pt. 2"
- Breakin Bread Radio Show, London UK



"Top Tracks of 2010": "Lotus Flower"
- Inside Vibe, PBS Radio, Melbourne Australia



"Top Tracks of 2010": "Serenity"
- Cosmic Jazz, ICR Radio, London UK



"Top Bands of 2010"
- Ottawa XPress, Ottawa ON



"Top Albums of 2010": Rising Sun
- Ottawa XPress, Ottawa ON



"This Week's Best Albums": Rising Sun
February 16th, 2010
- Alarm Magazine, Chicago IL



"Track of the Week": Mamaya
February 1st, 2010
- National Geographic, Washington DC



"Top Remix of 2009": Watch We
- Musiques impures, France



"Most Intense Concert of 2009":
May 13th, La Bellevilloise
- VoxPopMag, Paris, France



"Top Album of 2008": Manifesto
- Kalcha, Vibrations Magazine, France/Switzerland



"Top 10 Albums of 2008": Manifesto
- SoundProof Magazine, Toronto ON



"Top 10 World Albums of 2008": Manifesto
- FFWD Entertainment Weekly, Calgary AB



"Top 10 Albums for December 2008": Manifesto
- !earshot Canadian Indy Radio Charts



"2007 Band of the Year"
- Voir Magazine, Gatineau/Ottawa



"Top 10 Albums of 2007": Freedom No Go Die
- DJ Scott C, Montreal Mirror



"Best Albums of 2007": Freedom No Go Die
- Highlife World Music Magazine, Vancouver BC



"Top 10 Tracks of 2006": Mista President
- Gilles Peterson Worldwide, BBC Radio 1, UK



Soul Bag Magazine
par Franck Cochon
No 214
Avril-Mai-Juin 2014
Noisy-le-Sec, France

Disque solaire vénéré ou poings brandis de révolte, avec les très graphiques et surtout très expressives pochettes du Souljazz Orchestra, il est souvent question d'élévation. Avec le phénix incandescent, est venue l'heure de vraiment s'envoler pour un voyage en haute altitude qui, comme souvent avec le crew canadien, passera par différents endroits du globe. "Solidarity" proposait une virée surchauffée dans les clubs étriqués et bas de plafond pour se saouler de reggae, de funk ou de salsa ; "Inner Fire", en y refaisant quelques haltes, exprime surtout un besoin criant de grands espaces pour pouvoir s'exprimer pleinement. L'étroit n'a plus droit de cité, l'immense est la règle. On parle d'horizons infinis, de dunes de sable à perte de vue. Amérique latine, Afrique, Europe de l'Est, à chaque fois l'oiseau en combustion happe dans son sillage rythmes endiablés, transes méditatives ou jazz spirituel. Aller toujours plus loin et plus haut, l'orchestre s'est donné les moyens de mener à bien son évasion sonore en adjoignant à son équipage de base les services d'une harpe ou d'un vibraphone, en modifiant son ADN cuivré de base pour lui greffer des clarinettes, en faisant porter le poids lourd du groove à une contrebasse quand il était jusqu'alors coutume d'en laisser la charge aux claviers. Les destinations s'entremêlent, les ambiances se croisent et c'est sans se perdre dans des durées insensées que seules les oreilles jazzifiées comprennent que le phénix raconte ses épopées en analogique. Les visions cinématographiques ne sont jamais bien loin, à chacun d'y coller ses propres images.



Pop Matters
by Brent Faulkner
April 18th 2014
USA

"Resolved, spirited, and unbreakable". Those three adjectives describe what personally comes to mind from a title like Inner Fire. In other words, each individual possesses his or her own "fire" inside. Whether or not this was the vision of Pierre Chrétien and the Souljazz Orchestra behind Inner Fire is of minimal importance. What is important and notable is that Souljazz Orchestra deliver a truly genre-bending, international music juggernaut in Inner Fire. It encompasses touches of soul, Latin, Afro, and of course jazz, among others. Brief yet loaded, Inner Fire resides among the elite albums regardless of stylistic labels in 2014.

"Initiation" opens Inner Fire, exemplifying its introductory title. Moody and possessing a mysterious darkness, it establishes the tone of the LP. After an unstable beginning, balance settles in through the statement of the melody. Maintaining a minor key, first full-length cut "Kingdom Come" continues to exhibit moodiness, though it does so with an electrifying groove and alluring sounds. Brief but excellent solos courtesy of baritone sax (Ray Murray), trumpet (Ed Lister), and vibes (Chrétien) show top-notch musicianship, while the recurring piano/vibes riff is nothing short of addictive. The brevity of "Kingdom Come" both packs a punch and feels just right in length. The Latin-soul groove of "One Life to Live" definitely highlights the cut. An electrifying flute solo (Zakari Frantz) doesn't hurt the cause either, definitely part of the Latin-jazz idiom. The vocals—simple iterations of "one life to live"—are reggae-oriented, truly flaunting the eclectic, international vibe of Souljazz Orchestra.

"As the Crow Flies" opens mysteriously, initiated by the vibes, followed by intensification provided from the cymbals on the drums. Dark, shifting piano chords further set up the enigma, until upright bass (Philippe Charbonneau) establishes stability with another irresistible groove. Unsurprisingly, after all instruments settle in on the head, "As the Crow Flies" reveals itself as an excellent song for soloing. "Black Orchid" possesses more of the "soul" part of the ensemble's name. Sounding like the perfect instrumental background for any soul singer, "Black Orchid" easily gets the foot tapping and the head nodding. The orchestrations are brilliant, not to mention the magnificent featured vibe and tenor sax solos. Follow-up cut "Agoya" definitely has a mean bite and sass about it, driven by the infectiousness of its Latin groove. Manic and energetic are perfect adjectives to describe this standout.

"East Flows the River" provides a contrast, taking the tempo down and returning to a moodier sound. Philippe Lafreniére's drum groove, aided by Marielle Rivard's percussion as well, is another soulfully leaning cut. The pacing of "East Flows the River" feels natural, never pushing too fast to reach its climax. After taking time to establish itself, Steve Patterson solos yearningly on tenor, giving the horn a human-like voice. Throw in Chrétien mystical harp playing to close out the cut, and "East Flows the River" is another phenomenal spin from the orchestra. "Sommet En Sommet" picks right where "Agoya" left off with its Latin influences, though it does slow the tempo. The pianistic and vibe role in the "rhythmic machine" of the groove definitely stand out as notable instrumental features. The rhythmic pianistic role is also expanded, later delivering a slick solo as well as increasing the punch of the overall accompaniment.

Penultimate cut "Celestial Blues", penned by Andy Bey, kicks off with bassist Charbonneau receiving one of his few features. Charbonneau ends up setting up another awesome soul groove, but not before it sounds as if he's going to "pick the bass apart", given his aggressive pizzicato. The Souljazz Orchestra get an assist from percussionist Rivard, who provides lead vocals. Inner Fire closes solidly with outro "Completion". Slow and reflective, "Completion", much like "Initiation", exemplifies its title musically.

Ultimately, Inner Fire is a sensational album from the Canadian-based ensemble. Showing an appealing musical restlessness, Inner Fire is both enjoyable and exceptional. Just missing the 40-minute mark in duration, the album's brevity proves to be one of its best attributes. With substance and redeeming qualities lying within all 10 tracks (including the briefest in both "Initiation" and "Completion"), only the most hardcore nitpicker can find much wrong.



Dusty Groove
February 2014
Chicago, IL

Easily the best work we've ever heard from the Souljazz Orchestra – a set that pushes their sound way past their Afro Funk-styled roots – into a realm of spiritual sounds that really live up to their name! The jazz component is even stronger than before – really wonderful instrumentation in both the rhythms and solo passages – at a level that's richly expressive and very personal, in a way we never would have expected from these guys a few years back! Elements of different styles run through the music – including an occasional undercurrent of Ethio- jazz or Afro-Cuban grooves – and the lineup includes vibes, tenor, alto, flute, and lots of great percussion. Titles include "Agoya", "East Flows The River", "Sommet En Sommet", "Initiation", "Kingdom Come", "As The Crow Flies", "Black Orchid", "One Life To Live", and "Completion" – plus a version of the Andy Bey classic "Celestial Blues".



Songlines Magazine
by Mark Sampson
April/May 2014
London, UK

The Souljazz Orchestra
Inner Fire

A beefy baritone sax hails the return of the little big band from Ottawa. Whatever they've done to that 8-track Tascam recorder they acquired from the Canadian Mounties, the raucous analogue sound throughout the new album is disproportionately huge: the bass, percussion and horns would give Fela Kuti and sons a run for their money.

This multicultural sextet do a convincing line in Afrobeat. On 'Kingdom Come', the rousing opener, they sound like an Ethiopian big band. With tenor saxophonist Steven Patterson strutting his stuff on 'Black Orchid', they evoke the sound of the great multi-instrumental maverick Roland Kirk in his Atlantic-label heyday. On 'Agoya', they morph into a Willie Colón-like salsa dura combo of the early 70s. And they do it all with so much intensity that it knocks you for six. Solidarity, the band's previous release for Strut (reviewed in #88), garnered awards and much critical acclaim. This time round they've melded its more vocal, heterogeneous approach with that of its jazzier, instrumental predecessor, Rising Sun, and come up with something more coherent and even stronger. For all the diverse influences at work, the SJO deliver fundamentally Afro-jazz with a big funky soul. And it's marvellous.



AllMusic
by Thom Jurek
February 24th 2014
Detroit, MI

On 2012's Solidarity, Ottawa's Souljazz Orchestra collaborated with a host of singers from various traditions. The end result was a melodic, groove-laden expansion of the band's global vision. Inner Fire was recorded in analog and co-produced by bandleader, composer, and multi- instrumentalist Pierre Chrétien and Jason Jakunas. It is easily the group's most diverse outing, and also its most relaxed, but that doesn't mean lazy. "Kingdom Come" features a glorious, staggered horn chart that evokes Salah Ragab-esque Egyptian jazz. Solos from Chrétien's vibes, Ray Murray's baritone, and guest Ed Lister's muted trumpet illuminate the processional Eastern groove. "One Life to Live" uses Afro-beat as its initial engine; the meld of African and Caribbean rhythms provided by drummer Philippe Lafreniere and percussionist Marielle Rivard is intoxicating. "As the Crow Flies" weds samba, Cuban mambo, and Caribbean funk. Steve Berndt's trombone and Zakari Frantz's flute wind around and through the center of the horn chart, punctuated by Steve Patterson's deeply expressive tenor solo. Speaking of Latin, "Agoya" is one of the set's true salsa cookers, with a chunky horn arrangement, burning congas, shekere, claves, and other percussion from Rivard and Lafreniere, with a chanted backing chorus. "East Flows the River" is a slow burner, with moaning (pre-Thomas A. Dorsey style) gospel drones, Egyptian jazz, and blues. "Black Orchid" is a sunny bolero, with funky soul-jazz undertones. And the Afro-Guinean fusion in the 12/8, "Sommet on Sommet," is a stunner. The set's biggest surprise, however, is the cover of "Celestial Blues." Written by Andy Bey during his tenure with Gary Bartz's NTU Troop, it opens with a woody bass solo from Philippe Charbonneau. It's the only tune here with lead vocals, provided in grand '70s spiritual jazz-soul style by Rivard. The shuffling pace is a bit faster in this reading, punctuated by bluesy piano and meaty vibes from Chrétien with a gritty alto solo from Frantz as a topper. Lafreniere's drum kit holds a deep pocket for the ensemble. Inner Fire is a showcase for the Souljazz Orchestra's depth and experience. They can stretch into new areas, melding the vast array of musical styles at their disposal almost instinctively without sacrificing groove in their ambition.



Fleamarket Funk
by DJ Prestige
February 26th 2014
Brooklyn, NY

The Inner Fire of Souljazz Orchestra

One of our all time favorites here at Flea Market Funk, Gary Bartz & NTU Troop's "Celestial Blues" is a staple on the turntable as well as in our headphones. A song that is damn near perfect. Who would dare to cover it? The Souljazz Orchestra, that's who. Their cover is tuff and funky, and comes off of their freshly released Inner Fire LP on Strut Records. On this effort as a whole, TSJO expand their horizons, blending global rhythms as well as freaking the Funk in their own way. Staying true to the analog recording technique, Inner Fire takes you on a musical journey all over the world, blending Afro beats, Latin, spiritual elements, Egyptian Jazz, and Eastern sounds and influences to the table.

The original line up since their inception in 2005 of Pierre Chrétien (keyboards), Zakari Frantz (alto sax & flute), Steve Patterson (tenor sax), Ray Murray (baritone sax), Marielle Rivard (percussion) and Philippe Lafrenière (drums) is a combination that has given them much success. The band will take their polished sound on the road this Spring to venues around Europe, hitting the UK, France, and Turkey among other countries. In the past, they've already played with such notables such as Pharaoh Sanders, Stevie Wonder, Raphael Saadiq, while also providing live break beats for Ottawa's B-Boy Finals, showcasing their broad spectrum of sounds. It's on this record, Inner Fire, where that sound gets fatter. From the Afro-Jazz storm of "Kingdom Come", influenced by the big bands of North Africa to "Black Orchid", a soundtrack fusion of Cuban and Soul Jazz to "Agoya", a straight Latin side guaranteed to make you move, to "East Flows The River", a spiritual journey with Eastern rhythms throughout, Inner Fire is exactly what you want from a band like this: proper diverse sounds. What's great is they're very comfortable in all of these different shoes, and that's apparent. Like Yusef Lateef leaning far on Eastern Sounds (and incorporating different, odd instruments to boot), or Grant Green on The Latin Bit, they take these influences and master them. This record solidifies the Souljazz Orchestra's sound as one for the future. With their own inner fire burning, their openness to new exploration is quite clear. If you don't know your past, you can't know your future, and this band has that formula down to a tee. This fire will be burning for a long time, guaranteed.



Monocle
by Robert Bound
March 2014
London, UK

The Souljazz Orchestra
Inner Fire

Back with their cauldron of internationally cross-pollinated bitches' brew come those crazy globetrotting cats from, you guessed it: Ottawa. This record might just prove that having a pretty free diary means a genuine freedom from constraints of border and genre, a freedom of expression and an appropriate bagginess in the knees. For once, "fusion" is not a term to be sniffed at: samba, salsa, bossa, afro-jazz, highlife and spirituals are all represented in tracks that ping equally out of superfly improvisation and knuckle-tight arrangements. It has become its own thing: the genre that defies the term. Whatever you'd like to call this happy collision, the Souljazz Orchestra own it. Who'd argue with Louis Armstrong? That "there are only two types of music - good music and bad music". File under good.



Clash Magazine
by Peter Adkins
February 2014
UK

Long championed by the likes of Gilles Peterson and coming on the back of 2012's acclaimed 'Solidarity', Canadian six-piece The Souljazz Orchestra return with another generous fusion of jazz, Afrobeat and Latino sounds. Recorded in their favoured analogue style, 'Inner Fire' further exhibits the group's penchant for drawing on a wide net of global music traditions and bombastically forging them into something uniquely their own. From the full-bodied alto horns of 'Kingdom Come' to the salsa-flavoured 'Agoya', on to a fantastic cover of Gary Bartz's 'Celestial Blues', the album zips from one lively hybrid to another. Good-time music at its most technically innovative and infectiously optimistic.



Focus Vif
par Laurent Hoebrechts
le 7 mars 2014
Bruxelles, Belgique

The Souljazz Orchestra
"Inner Fire"

Fondé en 2002, le sextet mené par Pierre Chrétien n'a cessé de tenir les promesses affichées dans son nom. De la soul donc et du jazz, dans la grande tradition seventies, quand l'un et l'autre genre se joignaient pour raconter la condition black, entre politique et cosmique, façon Art Ensemble of Chicago. Plus varié que jamais, Inner Fire bouillonne, frémit, le groove chevillé au corps, même dans ses moments les plus "empâtés" (Black Orchid). De saillies latino euphorisantes (Agoya) en afrofunk (Sommet En Sommet, One Life To Live) en passant par des relents ethiojazz (Initiation), Inner Fire brûle de mille feux. Un vrai brasier.



Le Droit
par Yves Bergeras
le 15 février 2014
Ottawa, ON

The Souljazz Orchestra
Inner Fire

Inner Fire ne sort pas avant le 25 février, mais le Souljazz Orchestra le lance en primeur mondiale ce soir, au Petit Chicago, alors on se permet ! Le sextuor d'Ottawa-Gatineau n'a pas fini de faire groover la planète, et ce sixième opus n'a rien à envier aux précédents, même si ce n'est pas le plus endiablé du lot. Ses vibrations sont plus feutrées. Plus soul – ce truc igné qui leur flambe l'intérieur ! Avec classe et efficacité, Inner Fire métisse les rythmiques afrobeat, afrolatines et latin-jazz ou plus orientales. Presque sans un mot. La percussionniste Marielle Rivard glisse sa voix sur Celestial Blues, vieux classique "spiritual soul-jazz" repiqué à Andy Bey. On a du mal à dépasser la piègeuse deuxième piste, Kingdom Come, sublime mélodie qu'on se boucle ad nauseam. Pourtant, tout le reste est fluide et chaleureux, porté par les cuivres et les claviers vintage. Le Soujazz repassera à Ottawa le 15 mars, au Babylon, avant de s'envoler pour l'Europe.



Exclaim! Magazine
by Ryan B. Patrick
March 8th 2014
Toronto, ON

Concert Review:
Souljazz Orchestra - The Garrison, Toronto ON, March 7

There is something deeply captivating about Afrobeat-styled rhythms. Brass and bass join forces to create a hypnotic groove that has you moving before you know it.

Ottawa's Souljazz Orchestra have this West African funk template down pat and expand on it with jazz, blues and Latin styles all up in the mix. The six piece band — frontman/composer Pierre Chrétien on keys, Marielle Rivard on percussion/vocals, Philippe Lafrenière on drums, and Ray Murray, Steve Patterson and Zakari Frantz on brass — sound double that once they get things rolling.

Cuts from latest album Inner Fire were the highlights of the night, as Rivard's smooth vocals on "Celestial Blues," the call-and- response friendly "Agoya" and the hypnotic "One Life to Live" particularly stood out. It proved that while Inner Fire is indeed a solid project, the live concert experience is how the songs are truly meant to be experienced. The Garrison's sound system supported the band solidly on this night.

It was a rather late-night two-part set with the decision to have a 25-30 minute intermission in between. With the laid-back Chrétien coordinating things behind keys, each member possesses unique charisma, with the energetic Frantz on alto sax and Murray on vocals keeping the crowd participation angle going in particular. Currently on the Strut label, the sextet also dipped into their earlier Toronto-based Do Right Records discography (think early albums like Manifesto and Freedom No Go Die) for good measure.

"Have Afrobeat, will travel," seems to be the evergreen motto for the Souljazz Orchestra, and it's a perspective that they wear on their collective sleeves. "Thanks for supporting us hardcore," noted Murray during the set. "We encourage you to dance."

Throughout it all, there was an innocent earnestness and an elevated energy about it that got everybody smiling while they caught themselves vibing to the groove.



Exclaim! Magazine
by Matt Bauer
February 21st 2014
Toronto, ON

The Souljazz Orchestra - Inner Fire

No matter how you want to define their sound, there's no doubt that Ottawa's Souljazz Orchestra has an uncanny ability to seamlessly blend afrobeat, jazz, latin, highlife, tropical and hip-hop into a unique and identifiable entity of uncut groove guaranteed to get you on the dance floor. The ensemble's sixth effort, Inner Fire, is a more subdued affair than 2012's Solidarity, but it sustains that album's vibe of analog goodness, not to mention the Orchestra's inspired eclecticism.

Opener "Kingdom Come" marries alluring Ethiopian jazz with vigorous Latin horn charts. "As the Crow Flies" is a moody detour into bossa-nova, while "Black Orchid" is a mellow, picturesque slice of jazz funk. Lest their ability to ignite a party be forgotten, "Agoya" finds the orchestra firing on all cylinders with an ass-shaking salsa sizzle. An inspired cover of Gary Bartz Ntu Troop's 1971 classic "Celestial Blues" admirably doesn't stray far from the original but is updated with enough of a hip-hop-influenced edge that its life-affirming message of spiritual consciousness should appeal to a new generation. Inner Fire further cements the Souljazz Orchestra in a class of their own on the world music circuit.



Ottawa Magazine
by Fateema Sayani
February 2014
Ottawa, ON

SOUND SEEKERS: The Souljazz Orchestra Shows Its Diversity on Inner Fire

The Souljazz Orchestra's new album feels like a grand tour. The 10-song album Inner Fire (Strut Records) cycles through styles, showing off beautiful fluency in Afro and Latin genres with nods to big band and hip-hop. It's a showcase of the six-piece band's musical diversity. While previous albums underscored the group's deep appreciation for spiritual jazz, roots music, and the work of Fela Kuti, Inner Fire offers a fuller menu of the band's influences.

"It's a bit like Coltrane meeting Ebo Taylor and Willie Colon, with Madlib producing," Pierre Chretien (vibraphone, piano, harp, guitar) told Sound Seekers during the making of the album. Chretien wrote most of the tracks on Inner Fire, which was recorded at Jason Jaknunas' Metropolitan Studios in Ottawa. This album — The Souljazz Orchestra's sixth release — sees percussionists Phillipe Lafreniere and Marielle Rivard at front and centre. Both shine in their roles as primary vocalists on the tracks "Agoya" and "Celestial Blues," respectively.

The song is a soulful hip-hoppin' cover of the 1971 Andy Bey track. Souljazz Orchestra sax player Ray Murray turned the rest of the band on to the tune years ago. "The lyrics are beautiful, spiritual, and uplifting, without being too preachy or dogmatic," Chretien says. The band filled out the originally sparse song with a bumpin' arrangement of trumpet, trombone, flute, alto sax, bass clarinet, vibraphone, piano, upright bass, and percussion.



Okayplayer
by Will Georgi
October 2012
USA

[...] Solidarity is a straight up funky, raucous, dancefloor-troubling, riot-provoking monster of an album.

The main inspiration is afrobeat – the pace, the horns, the politically inspired lyrics and the Fela style of declamatory vocals – but what marks Solidarity out is the way its sound is as ambitious and diverse as it is cohesive. As befits an album inspired by people coming together across the world to mobilize for positive change, Solidarity embraces music from across the globe – reggae, highlife, semba, samba, salsa, dancehall, biguine jazz and more. And to their great credit, The Souljazz Orchestra have invited musicians hailing from Senegal, Brazil and Jamaica to join their ranks. The results are spectacular.

Solidarity is a driven by a power–a righteous anger at the state of the world–that cannot, and will not, be denied. Music is The Souljazz Orchestra and their comrades' weapon, and their weapon of choice is the horn. "Bibinay"; "Conquering Lion" and "Kelen Ati Leen" all boast staggering horn lines, while on a slightly deeper level, "Jericho" is a reggae-tinged number inspired by the Biblical story of the city's walls being brought tumbling down by horns.

But, as irresistible as they are, there's much more to Solidarity than a raucous horn section. "Cartao Postal" is a samba/semba joint where the spirits of Jorge Ben and Fela Kuti meet. "Tanbou Lou" brings some creole flavor to the party, while "Nijaay" is a beautiful way to close the album, a forlorn lament with a heartbreaking guitar line and vocal.

It's a sobering counterpoint to the riotous nature of the rest of the album, which brings us back to Solidarity 's central concept – injustice, inequality and the need for us to come together to change this. And what better way to inspire the world than with music as powerful as this?



AllMusic
by Thom Jurek
September 18th 2012
Detroit, MI

Canada's Souljazz Orchestra were well-known to audiences in Europe before their 2010 Strut debut, Rising Sun; it was the sextet's first all-acoustic effort. Meeting with nearly universal acclaim, it spread the sextet's well-deserved reputation for creating a musically adventurous meld of global styles, accurately reflecting roots cultures as they dialogue with one another in the 21st century -- without watering them down. Solidarity furthers the band's reach as it employs vocal talents from a wide range of singers from Canada's vast underground music scene. The band employs its usual meld of Afro-beat, Caribbean, tropical, Latin, and Brazilian styles with jazz, funk, and soul, but the interaction with singers brings the mix to a whole different level. Set opener "Bibinay" features El Hadji "Élage" M'Baye, a Senegalese native who now resides in Quebec. Here, Afro-beat and Afro-jazz meet slippery funk grooves from the modern West. The layers of guitars and distorted keyboards (Pierre Chrétien) meet layers of percussion, horns, and a call-and-response chorus. Immediately following, M'Baye leads the band in the funk number "Kelen Ati Leen." "Ya Basta" showcases the band's horn section as it employs incendiary salsa in a strutter par excellence, with a vocal from the Souljazz Orchestra's resident conguero and drummer, Philippe Lafrenière, leading the furious dance chant. "Jericho" is on the roots reggae tip with baritone saxophonist Ray Murray on vocals, while the more streetwise "Kingpin" goes at reggae with guest Gary "Slim" Moore leading the swaggering bubbler. The other reggae-inflected jam here, "Conquering Lion," is hard on the jazz-funk tip with killer front-line horns on all burners. "Serve & Protect" is a furious rhythm collision of Afro-beat and Latin rhythms. While horns assert themselves at the start, it's the keys, layers of manic percussion, and M'Baye and a chorus that send this one over as the set's strongest cut. Ultimately, Solidarity is seamless. No matter how high they set the bar here, the Souljazz Orchestra execute. Their music is always exciting, soulful, and expertly played; they never fall prey to world fusion clichés.



MOJO
by David Katz
November 2012 Issue
London, UK

The Souljazz Orchestra
Solidarity

Multicultural collective's latest eclectic blend

During the last decade, [Ottawa]-based big-band, The Souljazz Orchestra, have harnessed and re-interpreted a variety of appealing tropical music forms. Their previous set, the well-received Rising Sun, had an acoustic setting; Solidarity returns to the electric format, but was cut on an analog 8-track, aiding its 'classic' sound. A vibrant horn section leads the proceedings, helped by choppy [vintage keyboards], as the group takes us through West Africa, South America, the Caribbean and the southern US, reflecting the diverse origins of the group's members. Though the Afro-reggae track Jericho sounds a bit out of phase, the Afrobeat of Bibinay and mbalax of Nijaay are spot-on; Cartao Postal draws from Brazilian, Angolan, and Columbian styles. It all hangs together well, and is ably supported by the band's superb musicianship, particularly as provided by baritone saxophonist Ray Murray, percussionist Philippe Lafrenière, and keyboardist Pierre Chrétien.



Dusty Groove
September 18th 2012
Chicago, IL

We've always loved these guys – but they really blow us away with this smoking album – a set that has them funkier than ever, yet also reaching out to embrace some great new styles too! The Afro Funk of their core is still firmly in place – yet there's also wider echoes of global sounds really being embraced by a younger generation – bits of Colombian rhythms, psychedelic inflections, and really vibrant instrumentation that helps make this record sparkle even more than their already-great previous efforts! Production is totally smoking, too – and makes the set feel more like a Soundway compilation of rare tracks from the 70s than a contemporary set – definitely another plus in our book. Titles include "Cartao Postal", "Kelen Ati Leen", "Bibinay", "Kingpin", "Conquering Lion", "Tanbou Lou", and "Nijaay".



Record Racks
By Eric Luecking
September 18th 2012
Indianapolis, IN

Pierre Chretien and crew prove on this album once again that there isn't a style they can't excel at. From Reggae to Afrobeat to Latin-infused jams, we have been enamored with this album since we got our advance copy several weeks ago. Simply put, it's the Global Grooves album of the year.



Paris DJs
by Nicolas Ragonneau
September 24th 2012
Paris, France

Solidarity is one of Paris DJs' 2012 favorite albums and undoubtedly the best Souljazz Orchestra work so far. The Ottawa crew has changed almost everything on this record, reaching a new dimension. First they add Latin and West Indies rhythms and melodies, samba and reggae (Jericho, sung by [Ray Murray]) to their usual afrobeat and spiritual jazz musical landscapes. The sound is also very different. We love this raw, sticky and greasy production, giving the impression that the whole band is playing behind some thick curtain and through amps falling to pieces. At last guitars are widely used for the first time with a great spatial effect. Absolutely no weak moments on this album, loaded with hits, incredible protest or psychedelic anthems (listen to the cinematic Conquering Lion, its powerful intro and its frantic and dirty keys). Like every great platter, Solidarity does sound like an instant classic - as if this music was here a long time ago. As if it's always been here.



Vibrations Magazine
par Kalcha
le 28 septembre 2012
France/Suisse

Après un précédent disque très acoustique, The Souljazz Orchestra surprend tout le monde avec un cinquième album très électrique, quasiment garage dans le son saturé des claviers. Mais les Canadiens ont bien fait, leur groove n'a jamais sonné aussi urgent et efficace. Quittant de temps en temps l'Afrique pour des excellentes incursions brésiliennes, jamaïquaines ou caribéennes, ce Solidarity met plusieurs longeurs dans la vue de la concurrence afrobeat. Un des prétendants au podium 2012, assurément.



Le Mellotron
par Vax
le 14 septembre 2012
Paris, France

Le célèbre groupe d'afrobeat originaire d'Ottawa, le Souljazz Orchestra, est de retour avec un nouvel album intitulé Solidarity. Ce nouvel opus sortira le 18 septembre prochain sur le très bon label Strut Records.

Alors qu'il a déjà fait plus d'une fois ses preuves en matière d'afrobeat, le Souljazz Orchestra est allé cette fois chercher différents artistes vivant au Canada pour l'accompagner sur ce nouveau projet. Le sénégalais El Hadji M'baye, le canadien Slim Moore d'origine jamaïcaine ou encore le brésilien Rômmel Teixeira Ribeiro pour ne citer qu'eux annoncent tout de suite la couleur. Au delà des sonorités afrobeat qui restent évidemment le nerf central de leur musique, Solidarity se démarque des albums précédents et pousse plus loin le voyage en mélangeant jazz et soul aux influences tropicales.

Des morceaux comme "Bibinay" ou "Serve & Protect" prouvent encore une fois que le Soul Jazz Orchestra maîtrise parfaitement l'afrobeat. "Jericho" est un vrai tube reggae et "Nijaay" une ballade afro. On y parle anglais, portugais, espagnol et même wolof (langue parlée au Sénégal notamment) mais le sujet est le même – crise internationale et face à cela justement solidarité entre les peuples. On vous conseille donc vivement de vous procurer cet album et d'aller les voir en concert à Paris à La Bellevilloise le 10 octobre prochain par exemple. En attendant on vous propose l'ensoleillé "Tanbou Lou".



Rock First
par Loïc Picaud
le 27 septembre 2012
Paris, France

Fleuron du groove international, The Souljazz Orchestra s'est distingué par ses hymnes colorés venus des cinq continents. Après un "Rising Sun" instrumental acoustique, les Canadiens reviennent à leurs fondamentaux avec en prime quelques slogans révolutionnaires et réflexions sur la mondialisation. Propice à la transe, "Solidarity" offre une grande leçon de rythmes afrobeat, samba, latino, jazz funk et invite quelques vétérans rencontrés en chemin, comme le Sénégalais El Hadji M'Baye, le Jamaïcain Slim Moore ou le Brésilien Rômmel Teixeira Ribeiro qui s'illustre sur Cartão Postal, diatribe endiablée sur les voyages organisés. Autre nouveauté, l'irruption de tout un arsenal de guitares et claviers d'occasion délivrant leurs effets crades et remplis d'écho. Un bel exemple où danse et message font bon ménage.



Lylo
le 25 septembre 2012
Paris, France

Avec un groove pimpant de cuivres, l'orchestre canadien cosmopolite fait la fête qux rythmes tropicaux (afrobeat, latino, caribbéen, reggae, soul, jazz) et la part belle au positif message de la solidarité, avec toute la force du live.



Haut Parleur
par David Daunis
le 24 septembre 2012
Nantes/St-Nazaire, France

Les fans de Mireille Mathieu passeront leur chemin. On le sait déjà! Voici un hommage suprême à la musique afro-latine et caribéenne. Un disque qui gratte et chatouille, qui sonne comme s'il sortait d'un vieux transistor à lampes. À l'équipe du SJO se joignent des ténors brésiliens ou africains, munis de trompettes, saxs, orgue, ou organes vocaux classieux. Ô groove! Ô jazz!



Mondomix
par F.C.
le 11 septembre 2012
Paris, France

The Souljazz Orchestra
"Solidarity"
(Strut)
5 / 5

Le Souljazz Orchestra préfère toujours l'exploration du bas-côté en friche à la balade peinarde sur route goudronnée. À force de périples et de métissages, son costume d'afrobeat d'origine s'est paré d'écussons musicaux en provenance du monde entier. Afrique, Amérique du Sud, Caraïbes, les valises se sont ici successivement posées dans les coins les plus chauds des musiques afro-latines. Funk africain braiseux, reggae aux basses lourdes de colère, batucada tapageuse, salsa cubaine ou afrobeat guerrier, le fil conducteur est toujours le même : l'esprit insurrectionnel et contestataire que ces musiques portent en elles. Son crasseux et cuivré, production proche de l'os, SJO ne fait jamais de mauvais album. La preuve, une nouvelle fois.



Jeune Afrique
par Jérôme Besnault
le 9 septembre 2012

Le groupe canadien The Souljazz Orchestra sort un nouvel album, ce 18 septembre, sous le titre Solidarity. Le combo, qui s'est beaucoup illustré dans l'afrobeat, livre cette fois un album où chaque titre offre la découverte d'un style différent entre reggae, funk, soul, musique caribéenne, le tout assorti des habituelles influences africaines. Pour ce faire, The Souljazz Orchestra a su s'entourer de nombreux invités, dont le chanteur-compositeur et percussioniste sénégalais Élage M'baye. Un album essentiel et ensoleillé.



Que Tal Paris?
le 3 septembre 2012
Paris, France

À l'instar d'Antibalas ou du Budos Band, les canadiens de Souljazz Orchestra n'ont eu cesse, au cours de leur carrière, d'emmener le groove primal de l'afrobeat vers des territoires vierges et inexplorés. Après une poignée d'albums impeccables, le combo d'Ottawa est de retour avec Solidarity, un disque roots et fiévreux : «Après le tout acoustique Rising Sun, nous souhaitions revenir à un son électrique, ce qui nous a donné une excuse pour ressortir de vieux instruments poussiéreux du grenier». Entre un riff d'orgue Elka à l'accordage incertain, une guitare rêche comme un désert et une panoplie d'effets analogiques vintage, le groupe brasse les styles avec une aisance sidérante, de l'afrobeat aux rythmes afrolatins, de la salsa au reggae jamaïcain. Transcendé par l'engagement sans faille de ses musiciens, The Souljazz Orchestra emporte une fois de plus l'adhésion.



The Afrobeat Blog
By Marc Gabriel Amigone
August 30th 2012
Buffalo, NY

Solidarity, the new album from The Souljazz Orchestra out September 18, 2012 on Strut Records, is pure fire. While you may know Souljazz for their afrobeat leanings, Solidarity spans a wide variety of styles and sounds with the help of several guest vocalists from different corners of the globe. The album was cut to a temperamental Tascam 8-track tape machine inherited from the Royal Canadian Mounted Police at a surplus sale. The album definitely sounds like it's been recorded on a garage sale 8-track machine but not at all in a bad way. The gritty, retro sound quality lends itself to the classic sounds the orchestra is kicking out. It's almost like they put out a record of soulful funky music around the world circa 1974. Solidarity is definitely a fitting theme for this record. All ten tracks have a unique style and sound, but they all have a common soulful theme at the same time.

Listening to this record will definitely get you excited to see these guys live. If you live in the midwest, eastern US or Canada you'll get your shot sometime soon. When they cross the border they'll be touring with Brooklyn afrobeat luminaries Zongo Junction. I can personally attest to these guys' ability to tear up the stage.



World Music Central
By Angel Romero
August 25th 2012

Afroroots Explosion

The Souljazz Orchestra – Solidarity

The Souljazz Orchestra, one of the great African-diaspora rooted world music bands, is based in Ottawa, Canada. Their latest album, titled Solidarity, takes the group in a new direction from their previous album by incorporating vocals and electric instruments.

The band's musical style on Solidarity is difficult to categorize. The Souljazz Orchestra is known for breaking boundaries and Solidarity features a tasty mix of dance oriented Afro-rooted musical styles. The guest vocalists sing in various languages: English, Portuguese, Spanish and Wolof.

Solidarity opens with vibrant Afrobeat, showcasing the brass section of the band. The festive Portuguese vocals and beats of 'Cartão Postal' will make your think you are in Bahia, watching one of Carlinho Brown's projects parading down the street.

The percussive 'Ya Basta,' sung in Spanish is a much more serious affair, transmitting politically progressive messages, denouncing authoritarian policies.

Solidarity also features excellent reggae with pieces such as the roots reggae song 'Jericho' and the dub reggae Kingpin. There are also pieces that sound downright African, like the [...] Afropop of Tanbou Lou and the West African blues of Nijaay.

The Souljazz Orchestra cast includes Philippe Lafrenière on drums, percussion, vocals; Zakari Frantz on alto saxophone, flute, percussion, vocals; Pierre Chrétien on vintage keyboards, percussion, vocals; Ray Murray on baritone saxophone, percussion, vocals; Marielle Rivard on percussion, vocals; and Steve Patterson on tenor saxophone, percussion, vocals.

The album's guest lineup includes Senegalese griot singer, percussionist and songwriter El Hadji "Élage" M'baye, now resident in Gatineau, Québec; Brazilian singer, songwriter and guitarist Rômmel Teixeira Ribeiro, now living in downtown Ottawa; Canadian vocalist and songwriter Slim Moore, born in Overbrook, Ontario to Jamaican parents; skilled jazz trumpeter Nicholas Dyson; adaptable singer Amelia Leclair on backing vocals.

The electric direction of Solidarity allowed The Souljazz Orchestra to bring back some of their dusty, forgotten musical instruments from the attic: an ancient vibrato-heavy transistor organ, pawn shop hollow-body electric guitars, a psychedelic tape-echo machine, a resonant surf-guitar spring reverb unit, even an old Italian-made Elka electric piano rescued from a garbage can. The album was recorded onto a Tascam 8-track tape machine inherited from the Royal Canadian Mounted Police at a surplus sale. The ensuing sound of Solidarity is grainy, low-budget and analog.

The Souljazz Orchestra is celebrating its 10th year. The album Freedom No Go Die (2006) featured a highly successful single titled "Mista President" and Manifesto, released in 2008 (Do Right! Records) set a high standard. In 2010, the all-acoustic, instrumental album Rising Sun (Strut Records), headed into mystical Afro jazz.

The Souljazz Orchestra will be touring Europe and North America from September 2012.



National Geographic
By Tom Pryor
August 31st 2012
Washington, DC

Each week Nat Geo Music scours the far reaches of the internet for the coolest new videos around the world.

This week we turn to Canada's red hot afro-funk all-stars, the Souljazz Orchestra - who are celebrating their 10th anniversary this year with the release of Solidarity, the band's fifth full-length album, due out Sept. 17th on Strut records.

Here's what the band had to say about the upcoming release: "Solidarity, a fierce collaborative record featuring a range of unique artists from Canada's vibrant underground scene, including Senegalese-Canadian griot descendant Élage M'baye, Brazilian-Canadian singer-songwriter Rômmel Ribeiro, Jamaican-Canadian rocksteady soulman Slim Moore, as well as the full Souljazz Orchestra core line-up, with vocal contributions by drummer/conguero Philippe Lafrenière and baritone saxophonist Ray Murray.

The songs we wrote are in a variety of Afro, Latin and Caribbean styles, all connected by a consistent thread of North American soul and jazz sensibilities. Featuring lyrics sung in English, Spanish, Portuguese and Wolof (with borrowings from French and Arabic), the pieces are unified by a common message of positive social change.

After the release of our last album, the all-acoustic Rising Sun, we also wanted to return to a plugged-in sound, which gave us an excuse to dig up some of our dusty, forgotten electric instruments out of the attic again: an ancient vibrato-heavy transistor organ, grungy pawnshop hollowbody guitars, an unsteady warbling tape-echo machine, a cavernous surf-guitar spring reverb unit, even an old Italian-made Elka electric piano rescued from a garbage can. We recorded the new songs onto a temperamental 8-track tape machine, and the whole thing resulted in one massive, heavy-hitting, ruff-and-tuff record."

Sounds pretty badass, right? Well we've heard an advance copy and it's beyond badass.

Check it out for yourself with the video for this salsa dura crusher, "Ya Basta".

Enjoy!



Fonkadelica
par Boogie Bass
le 7 septembre 2012
Angers, France

Avoir entre les mains un nouvel album de The Souljazz Orchestra c'est un peu comme recevoir le cadeau d'un ami qui nous connaît bien ! On sait par avance que ça nous fera plaisir ! Et il faut le dire chez Fonkadelica on affectionne particulièrement ce groupe et pas seulement parce que l'on a été le premier média français à les faire découvrir dans l'Hexagone (avec l'album « Freedom No Go Die » bien avant qu'il ne soit distribué officiellement en France). Dès leur deuxième opus, nous avions préssenti tout le potentiel de développement de ce combo canadien qui était fait pour durer.

Ce cinquième album « Solidarity » marque en 2012 pour le groupe une volonté évidente de métissage largement assumée. Alors que le précédent opus « Rising Sun » explorait le côté plus jazz du groupe via l'ethio jazz et l'afro jazz en particulier, celui-ci joue assurément la carte de l'éclectisme musical qui non seulement le rend difficilement classifiable (enfin ce n'est jamais le soucis des artistes plus celui des chroniqueurs !) mais permet surtout de démontrer que quelque soit le registre qu'ils décident d'explorer, leur sens de la composition en fait jamais défaut !

Ceci dit si vous suivez le groupe depuis longtemps, vous vous souviendrez que les précédents opus (et entre autre le fameux « Freedom no go die ») faisaient la part belle à quelques disgressions hors afro-beat et que la diversité des goûts musicaux du groupe les emmena à proposer l'an dernier un side-project soul : Slim Moore & The Mar-Kays.

Mais « Solidarity » va délibéremment plus loin ! Avec sa pochette symbolique avec en particulier le nom de l'album écrit en cinq langues et sa flamme tenue par trois mains de couleurs différentes, (qui rappelle aussi le graphisme des affiches d'entre deux guerres) on a à faire à un qui visuel donne le ton de cette mixité d'entrée de jeu. Mais c'est bien évidemment au niveau musical que Pierre Chrétien et ses accolytes explorent cette diversité.

Si l'afro-beat a encore sa place sur des titres comme « Bibinay » ou « Serve & Protect » ce sont les influences latines et caribéennes qui sont cette fois les plus présentes. L'esprit de Fania Records et du Spanish Harlem n'est pas loin par exemple sur un titre comme « Ya Basta ! » L'univers chicano mi latin-funk, mi afro-funk avec une touche de rock est également présent sur le morceau « Kelen Ati Leen ». Quant à « Cartão Postal » c'est du côté du Brésil que le groupe nous emmène dans un esprit festif et traditionnel. La vraie suprise vient surement des deux tracks reggae que sont « Jericho » et « Kingpin« , ce dernier chanté par Slim Moore qui quitte ici son registre soul pour revenir à ses premiers amours…

Dans cet album à l'esprit collaboratif, où de nombreux invités sont venu partager leur amour de la musique bien faite (le sénégalais El Hadji « Élage » M'baye, le brésilien Rômmel Teixeira Ribeiro, la chanteuse Amelia Leclair…), on sent le goût du partage. Enregistré sur une vieille console 8 pistes (de marque Tascam trouvé dans un surplus !) le son n'en ressort que plus authentique et brut. Alors bien sûr on pourra dire que cet album a le défaut de ses qualités : son éclectisme peut parfois être déconcertant et donner une impression du manque d'unité que l'on pouvait avoir sur les précédents LP. Mais en fait les Souljazz démontrent surtout ici leur science du groove, leur capacité à passer d'un registre à l'autre avec une facilité déconcertante, où chaque piste pourrait être un single potentiel ou presque !

Devant cette maîtrise de la sono mondiale, The Souljazz Orchestra est aujourd'hui un des groupes les plus influents de sa génération au Canada, et traverse par bonheur depuis de nombreuses années régulièrement l'Atlantique pour notre plus grande joie ! Longue vie à eux !



La Nouvelle République
le 31 août 2012
Deux-Sèvres, France

Le Souljazz Orchestra est imparable. Une énergie énorme faite de soul, jazz, afro, latin et antillais, mais avant tout de joie de vivre et d'enthousiasme cuivrées. Ce collectif qui nous vient d'Ottawa, a déjà une bonne dizaine d'années d'expérience scénique, et sort un nouvel album distribué par Him-Media - La Baleine. C'est sur le label britannique Strut qu'ont été enregistré ces dix titres. Bibinay, Kelen Ati Leen, Cartão Postal, Ya Basta, Jericho, Serve & Protect, Conquering Lion, Kingpin, Tanbou Lou et Nijaay. Chaque morceau a son identité, qu'elle soit reggae, funk, soul, inspirée des rythmes africains voire brésiliens. Ils ont tous en commun de donner envie de danser, même si l'album enthousiasmant s'achève sur une balade des plus langoureuses. Vous pouvez le commander les yeux fermés: c'est top!



Cumbe
par Vincent Caffiaux
le 28 août 2012
France

The Souljazz... Solidarity

Après Rising Sun, un quatrième opus marqué par une direction musicale acoustique, les canadiens du Souljazz Orchestra négocient, avec Solidarity, un virage électrique. Bien sûr le croisement de rythmes africains, latins et jazzy est toujours au rendez-vous mais avec une interprétation désormais affranchie des canons du genre. Bibinay qui ouvre l'album est un hommage évident à l'afrobeat nigérian. Pourtant si les cuivres pulsent avec un son analogique qui n'est pas sans rappeler les belles heures du Shrine, le sens de la mesure affirme toutefois une griffe décomplexée. Ici l'énergie est carrément rock. L'ambiance donne naturellement envie de frapper de la semelle avec Cartão Postal, pont entre les sambas brésiliennes et angolaises. Et le véhément Ya Basta témoigne de la passion du groupe pour les rythmes latins. Perles extraites de ce coffre aux trésors, Kingpin revisite le reggae avec une puissance inédite et Nijaay, reprise d'un standard sénégalais, termine l'album avec émotion. Clin d'oeil au Constructivisme, la pochette rappelle surtout la dimension fédératrice du Souljazz Orchestra. Les récents concerts du collectif d'Ottawa, aux côtés de Etta James ou Horace Andy, renforcent l'attitude maison. La démarche est passionnante. Goûter à cet album c'est aussi se mêler de façon irrésistible au melting pot qui brasse désormais les mégapoles de la planète.



Indie Rock Mag
le 12 juillet 2012
France

Le Souljazz Orchestra dresse les poings

On ne s'était guère étendu en 2010 sur le groove élégant du beau Rising Sun, mais quelques lignes avaient suffi pour laisser entendre tout le bien que l'on pensait de la mixture proposée par The Souljazz Orchestra. Et ça n'était finalement que partie remise, puisque le combo d'Ottawa fêtera ses dix ans d'existence avec un cinquième album à paraître le 17 septembre chez Strut Records, label londonien de référence dans le déterrage de pépites afro-funk passé en 2008 sous la supervision de Studio !K7.

Avec sa levée de flambeau pluriethnique réminiscente des poings dressés de Freedom No Go Die en 2007, la pochette de Solidarity parle d'elle même quant aux thèmes abordés par ce nouvel opus, de même que les références cubaines de l'hispanophone "Ya Basta" et les archives altermondialistes de sa vidéo aux allures de fiesta contestataire.

Une fois encore, l'influence des balancements caribéens ne sauraient éclipser un subtil métissage nourri à l'afrobeat comme au psychédélisme éthio-jazz, et si l'album - enregistré sur un 8-pistes à l'aide d'une pelletée d'instruments ressortis des greniers du groupe - s'annonce plus électrique et dansant au regard des atmosphères feutrées de son illustre prédécesseur, on n'en suivra pas moins avec intérêt les nouvelles circonvolutions des Canadiens.

Outre le percussionniste Philippe Lafrenière et son compère le saxophoniste Raymond Murray, quelques invités de l'underground local prendront ainsi le micro en Anglais, en Portugais ou encore en Wolof, citons Élage M'Baye, descendant d'un griot sénégalais, le songwriter d'origine brésilienne Rômmel Ribeiro ou encore Slim Moore, soulman "jamaïco-canadien" que l'on retrouve par ailleurs à la tête de Slim Moore & The Mar-Kays dont on ne saurait trop vous conseiller la ferveur romantique et rétro en studio comme sur scène.

Et la scène parlons-en puisque le SJO prévoit justement une tournée internationale à l'automne, plus qu'à croiser les doigts - ou les poings ? - pour qu'elle passe par chez nous.



Ottawa Jazz Scene
By Alayne McGregor
July 4th 2012
Ottawa, ON

The Souljazz Orchestra sets the beat at the Montreal Jazz Festival

The Souljazz Orchestra
Montreal Jazz Festival, Place TD (outdoors)
Monday, July 2, 2012 – 9 p.m.

The Souljazz Orchestra is an interesting amalgam, with a jazz sensibility and instrumentation but an overall soul-influenced sound and strong Afrobeat rhythms.

Those strong, infectious rhythms make the long-standing Ottawa group a particular favourite with the dance crowd, and a perfect choice for an outside stage at a festival. And it worked at their first show at this year's Montreal Jazz Festival, where (with only a few exceptions) they had the large audience on their feet with their first notes, and swaying or dancing in place by the second.

The six musicians started out with the most jazz-oriented piece of the night, "Rejoice" by Pharoah Sanders, which was given a relatively introspective treatment, with intense, thoughtful solos by alto saxophonist Zakari Frantz and keyboardist Pierre Chrétien.

But they quickly moved into dancing mode next with a highly funky number, which was more typical of the rest of the night. The set list was a mixture of older pieces from the band's three previous albums as well as several new songs from their upcoming album, Solidarity, to be released in September.

Particularly notable was "Ya Basta" from Solidarity, which layered both vocals and instruments in a complex pattern with lots of fast horn work.

On the quieter side again was "Negus Negast" from Rising Sun [2010], which showcased all three saxophones in unison to create a deep atmospheric sound with the percussion rustling above – before keyboards and drums took over to build up the energy again.

Drummer Philippe Lafrenière contributed both vocals and a driving beat to "People People" – where the underlying rhythm added urgency to the message of getting together – but he was equally well matched by Ray Murray, whose baritone sax was a notably important part of the band's sound on that and other songs. Marielle Rivard took over the vocal lead partway through with a syncopated call to action.

However, one of the defining characteristics of the orchestra is how much each musician contributes: everyone sings, everyone plays some sort of rhythm instrument. The group showed its ten years of experience together with its tight, focused show.

The 9 p.m. show ended with a rousing version of "Mista President" which was greeted with intense applause and repeated calls for an encore. OttawaJazzScene.ca missed all but the last few minutes of the orchestra's second show that night (at 11 p.m.), but the audience there looked about as large (filling around one-third of the huge festival plaza), and equally enthusiastic.



Minnesota Daily
By Dylan Hester
February 23rd 2012
Minneapolis, MN

The Souljazz Orchestra brings it all to the table

The Ottawa Afro-Funk-Jazz ensemble is bringing their rhythms to the Triple Rock

Over the course of the past 10 years, The Souljazz Orchestra has steadily built an impressive recording catalogue. What started out as a musical project between friends has become an internationally touring powerhouse that is set to hit Minneapolis on Saturday night.

Formed in 2002, the sextet hails from Ottawa, Canada. With four full-length LPs and a handful of contributions to compilations and remix projects, Souljazz is clearly one of the leaders of modern-day jazz-funk.

But even that is a narrow statement.

"If you take a listen to a few of our compositions, you might notice that there's a bit of a broader scope going on," said Pierre Chrétien, who plays keyboards and percussion in the group. "I see it more as a mix of jazz, soul, Afro, Latin and Caribbean styles."

The music of the The Souljazz Orchestra is often referred to as Afrobeat: a style of groovy, poly-rhythmic funk that originated in late-'60s Nigeria. Certainly, the influence is there. The band evokes the powerful, politically charged sounds of Fela Kuti and Tony Allen on the albums "Manifesto" and "Freedom No Go Die."

But Afrobeat is just one of the large varieties of musical cultures that has inspired Souljazz. Much of that inspiration is found right in the band's hometown.

"Ottawa, like most Canadian urban centers, is very multicultural," Chrétien explained. "There is a wide variety of styles and genres that are represented, from Brazilian samba groups to Haitian kompa bands, from Cuban jazz ensembles to Senegalese griot singers."

These genres and many others from around the world have seen a rise in popularity in recent years. Many independent labels like Soundway, Analog Africa and the Minneapolis-based Secret Stash have made a name for themselves among world music junkies. These labels have been releasing compilations of rare funk, jazz, pop and other recordings from countries such as Nigeria, Colombia and Brazil, just to name a few. Many of these recordings would otherwise have gone largely unheard in North America but thanks to word of mouth and the Internet, this relatively niche area of music is finding a new generation of ears.

But The Souljazz Orchestra does more than simply recall older styles. The six members of Souljazz constantly innovate as musicians, like on their most recent release, 2010's "Rising Sun". Over the course of nine tracks and 45 minutes, few would argue against calling them an orchestra in the fullest sense of the word.

More than 30 instruments are heard on "Rising Sun", a fiery slab of Afro- and Latin-tinged jazz. The range is impressive as well. For a few minutes, the soundscape is akin to the minimalist explorations of '90s experimental rock band Tortoise. A short time later, the sound will evoke the big-band swing of Duke Ellington's ensemble suites.

And it's all acoustic, which is a first for the band.

"[Going all acoustic] was to challenge ourselves and to get us to think outside of the box," says Chrétien. "We like to keep things fresh and switch things up while striving to maintain a consistent thread throughout all of our writing."

Above all, the organic, multifaceted music of The Souljazz Orchestra is ideal in a live setting, and you can expect a packed and sweaty dance floor when they unleash their relentless funky rhythms at the Triple Rock Social Club on Saturday night.



RawPowerMag'
par Mr Bof
le 28 mars 2011
Paris, France

Concert : The Souljazz Orchestra + Café Crème & Les Frères Smith (La Bellevilloise 26/03/11)

Adeptes des rythmes afrobeat, si vous n'étiez pas présents à la Bellevilloise en ce samedi 26 mars, honte à vous ! Car les murs de la petite salle du 20ème ont accueilli hier soir la fine fleur de ce son flamboyant des seventies en provenance directe d'Ottawa, capitale de la feuille d'érable... Hé oui, les Souljazz Orchestra traînaient dans le coin, le temps de mettre une bonne claque aux danseurs de tout poil.

Mais commençons par le commencement. La soirée placée sous le signe des tropiques débute par un collectif français : Café Crème et Les Frères Smith. Leur premier album sortira dans quelques jours, le 14 avril. Sur le coup des 22h00, pas moins de 12 musiciens déboulent sur la petite scène, prêt à en découdre avec une salle... à moitié vide. Mais qu'importe ! Les saxos soufflent sur les braises tiedasses du public pour aviver une flamme qui ne demande qu'à se muter en brasier. Le jeu de lumière de la Bellevilloise, à savoir des spots rouge s'allumant et s'éteignant chaotiquement, est proche du niveau zéro. Bien heureusement, le son est quant à lui formidable. Tout au long du gig, les guests se succèdent avec des chanteurs invectivant les danseurs, hurlant leur joie de communier leur passion pour cette musique rayonnant de l'aura de Fela Kuti. Le nom est lâché. Un nom qui sera prononcé plusieurs fois au cours de la soirée, ce démiurge de l'afrobeat planant au dessus de la scène, héritage incontesté de ce mouvement ancré dans la contestation politique. Si le collectif français impressionne durant plus d'une heure par sa maîtrise du style, il manque toutefois un petit quelque chose pour être pleinement conquis.

L'arrivée des 6 membres du Souljazz Orchestra ne fera pas un pli. La différence est flagrante. Dès le premier morceau, l'énergie monte d'un cran, le son est plus enlevé, les soli de saxo s'enchaînent et, là où les français nous faisaient hocher de la tête, les canadiens nous font sauter sur place. Il faut dire que sur la fin du set de Café Crème et Les Frères Smith, la salle est passée de clairsemée à...blindée ! L'air est étouffant, le public est surexcité, les smartphones jaillissent dans les airs, témoins lumineux d'un spectacle mémorable.

La pression ne redescendra jamais, aucune pause, la formation est resserrée autour de son excellent claviériste (compositeur attitré du groupe), le batteur chante plusieurs morceaux tout en fracassant ses fûts, les saxophonistes font les choeurs, la seule fille du groupe apporte ses vocaux sur des morceaux plus soul...Rien à dire, ce combo tient toutes ses promesses, c'est ce que j'appelle de l'argent bien investi ! Je ne peux que vous conseiller de vous jeter sur leurs 4 albums, chacun apportant sa contribution à l'édifice d'un style musical où les instrus baignent dans une moiteur roborative.

Alors c'est sûr, inévitablement, après 3 heures cumulées d'afrobeat, les talons sont en feu, les oreilles bourdonnent et la gorge est sèche... Mais whaouh ! Quelle putain de soirée...



CBC News
By Sarah Liss and Andre Mayer
December 22nd 2010
Canada

Top 10 albums of 2010
We share our favourite recordings of the year [...]

Souljazz Orchestra, Rising Sun (Strut Records)

This Ottawa collective is surely one of the most underrated acts in Canada. A notoriously ferocious live act, Souljazz Orchestra blends jazz, Afrobeat and Latin influences, and the results are never less than breathtaking. Rising Sun is the collective's most sizzling effort yet.

Best track: Agbara



Highlife World Music
By Kevin Finseth
November 22nd 2010
Vancouver, BC

Best of 2010 [...]

Souljazz Orchestra, Rising Sun, Canada

After two superb Afro-beat albums, this Ottawa-based group adds a strong dose of 60s era Coltrane-tinged jazz to its funky upbeat sound, bringing together two great musical traditions.



Sonic Boomers
By Bill Bentley
February 22nd 2010
San Francisco, CA

The Souljazz Orchestra
Rising Sun
Strut Records

When groups work like crazy, playing live shows constantly, rehearsing because they love the joy of creating and camaraderie combined, writing original songs that sometimes seem to come from the air itself, listening to music for the sheer love of sound: all these things merge into a sonic force field which will not be stopped. That field radiates out into the world in a way that ultimately builds to a wave that must be heard. And that is the world of the Souljazz Orchestra now. Their new album, Rising Sun, is a stunner of the first order. It begins in full burn and does not let up. The music this young aggregation creates has the gift of life inside it, like they have found a mojo key to unlock the power of the groove. There is simply no way to resist it. The band has been moving skyward for awhile. Now, though, it feels like all that inspired effort has kicked into a whole new realm, allowing all the members to float together while their instruments take on a life of their own. For sheer souldacity, it is going to be hard to beat this release for righteous inspiration in 2010. When the music of the spheres decides to make an Earthly visit, it doesn't have to knock. All it has to do is walk on in. The only thing we can say is amen.



Record Racks
By Eric Lueking
February 8th 2010
Indianapolis, IN

IN THE HOUSE OF THE RISING SUN

Now and again, you come across an album so good that you just can't get it off repeat. From the opening to closing notes, I was spellbound in between. The opening track, "Awakening," is peaceful and reminds me of the first time I heard Lonnie Liston Smith's Garden Of Peace. My mind and heart had been kidnapped - thrown into a trunk and I was going wherever this band steered me for the next hour or so.

"Awakening" is what you hear and feel in those groggy moments before your eyes pop open. It captures the sounds of wherever we go in Dreamland and is the reveille that beckons us back to reality. That last held note is like the morning stretch that says, "You're up and you're ready to go!" which leads you to...

The Souljazz Orchestra: Agbara
From Rising Sun (Strut, 2010)

this shot of musical caffeine. Skip the morning coffee and throw this into your music player of choice. If you aren't able to get through the drudgery of the morning with this playing in the background, then don't even bother with the rest or your day. Musically, it hearkens to the Latin classic "Tiger of San Pedro" as performed by Bill Watrous. It bounces with verve with its marimba-laden background, and those horns... MY GOD!

The rest of the album follows along the same lineage, closing out with a two-part cover of Pharoah Sanders' "Rejoice" suite with first part being more meditative and the second part being more rhytmic and lively.

You can check more out clips over at the official release page. With roots in Ethio-jazz, Afrobeat, Latin, and soul, the band shows they are capable of astounding range, which is no small task. More importantly, though, they accomplish it with a fortitude and semblance of musicality that allows them to be original while still honoring those who inspired them.

Ladies and gentlemen, this is the first must-have release of 2010, and it comes your way February 16th.



Dusty Groove
February 2010
Chicago, IL

Rising Sun
Souljazz Orchestra

An amazing set from this band that never fails to excite us - and a record that has them really living up to the spiritual promise of their name! Although still filled with the Afro Funky lines that first got the group some notice, there's also a deeper vibe running through this record too - one that has links to 70s righteous jazz, and a wider range of African expressions too -- including bits of Ethiopian and Egyptian elements as well! The instrumentation is great - really complex and interesting, with bits of vibes, reeds, and a range of percussion instruments that really keep things fresh - plus some beautiful piano lines that create an almost Build An Ark sense of peace and promise. Titles include "Negus Negast", "Lotus Flower", "Awakening", "Agbara", and "Rejoice (parts 1 & 2)".



The Hurst Reviews
By Josh Hurst
January 26th 2010
USA

Souljazz Orchestra: "Rising Sun"

Can wordless music ever be spiritual – not just in some vague, subjective sense, but actually, substantively conveying something of the transcendent or the sublime? It's a hard question, I know, but not because the answer is elusive – anyone who's heard A Love Supreme knows it to be a resounding yes, just as anyone who's heard Handel's Messiah knows that the music is just as important as the words in conveying the piece's profound beauty – but rather because, well, tying wordless music to a set of words is fundamentally vexing. I don't offer any new insight, and neither does the Souljazz Orchestra, but their new work Rising Sun is a thunderous affirmation – a work that stirs the soul, reaches to the heavens, and offers spirited celebration of the enduring power of beauty in the human experience.

I'm not sure if the Souljazz crew wrote this as their own personal offering to God, as Coltrane did his work, but it is nevertheless in that same lineage – though admittedly by way of wife Alice and a panglobal survey of music made to move both body and soul. No, there is no verbage – not even in the song titles – to suggest that these songs are dedicated to a particular deity, or meant to encapsulate a certain religious tradition, yet the way this music engages the sacred – or perhaps, the innate human thirst for the sacred – and conjures eternal things is unmistakable. This is music for prayer; this is music for rejoicing.

And indeed, it does unfold, quite organically, as a sort of spiritual journey, beginning, appropriately enough, with "Awakening," a wistful prelude that doesn't jolt the listener to alertness so much as it offers permission for serenity, solitude, contemplation. That said, Rising Sun isn't a quiet record to be played in the background, and the second song, "Agbara," begins, quite literally, with a shout; it kicks into a joyful, drum-circle beat borrowed from [West] African folk music, but it's adorned with horns that are pure funk. There's a primitive abandon to the song that suggests a total lack of propriety or self-awareness; the musicians are joined by wordless chanting that's zealous for an encounter with the sublime. If this song is a prayer, it's a fervent, perhaps even demanding one.

The Souljazz Orchestra understands that a capacity for curiosity, and a love of beauty, are prerequisites for making music as spiritually seeking as this. "Negus Negast" is a playful, and once again totally funky song that tips its hat to the Ethio-jazz of Mulatu Astatke and friends, right down to a magical use of vibes; there are also killer solos on piano and trumpet, but the beat is simply relentless, clearly made for the dancefloor. This is the place where sacred music turns to pure rejoicing, where the seeker can't help but be swept away in the joy of the search. The song is also a key lesson in understanding what gives this music so much heart: not only are the compositions informed by all manner of dance music from around the world, but, despite whatever formality the word "orchestra" might suggest, everything here is loose and vibrant; the funk-minded numbers swing hard, and the more reflective pieces are open and airy, not stuffy.

Indeed, as the album's journey into the soul continues, the fervor of the opening sequence slowly fades into more contemplative pieces, though that hardly makes them dull by comparison. "Lotus Flower" is a gorgeous, mid-tempo piece marked by a trumpet melody that Miles Davis might have played. "Serenity" is the album's most naked arrangement, but is nevertheless a thrilling song, marrying spiritual jazz to African rhythm and featuring superbly understated work from flute and clarinet; "Consecration," meanwhile, moves deep into the realm of mystery, an impossibly seductive and suggestive modal jazz piece, part Kind of Blue and part Indian folk music.

The record closes with an initially calm, but ultimately vigorous cover of Pharaoh Sanders' "Rejoice," a wild and unkempt jazz classic whose very title is a perfect summary of what Rising Sun is all about; this is music made for dancing, for singing (even though there aren't any words), for calling out to the Divine, and for remembering to see the world as a dark marvel, a thing of strange and – every once and again – beguiling beauty, something this fine recording has in spades. It's sophisticated in every way – the arrangements are complex without sacrificing their funkiness, and the influences drawn upon show an open-minded but nevertheless discerning appreciation for world culture and musical traditions – but what makes it such a deliriously celebratory affair is its spirit, which soars even in quiet moments and is never content to waste a moment even though it's clearly made with eternal things in mind. Rising Sun is a triumph for the Souljazz Orchestra, for the wonderful Strut label, and for music in general, for it proves just how exciting – and meaningful – this art form can be.




Ear Fuzz
By Still Life
February 23rd 2010
San Diego, CA

It's been an exciting year or so for African music at Strut. In addition to releases from one of my musical heroes (Mulatu Astatke) and the Nigeria 70 series, there's the Jimi Tenor / Tony Allen Inspiration Information album, and this March will see a reissue of the seminal Duncan Brooker compilation Afro Rock Vol. 1 (I'll try to post a track from that one coming up as well). But this project holds a special place in my heart, because it's from a new band, and one that not a lot of people seem to be up on (at least in the States). The Souljazz Orchestra have quietly been making Afrobeat and jazz-inspired masterpieces for the better part of the last decade, earning them accolades from the likes of Afro enthusiasts Gilles Peterson and Rich Medina. I was ignorant of the group's efforts though until their awesome remix of Horace Andy & Ashley Beedle's "Watch We," from that duo's own Inspiration Information project. The way they flipped that one from a mellow dancehall loper into a slice of Afro heat really impressed me, and I was eager to hear what else the group had up its sleeve.

On Rising Sun the group maintains the same intensity (see the video above) while expanding a little bit into the realm of cosmic jazz, and Ethio style modes. It's nice to have the floor fillers book-ended by some spacier, introspective numbers. There's even a Pharaoh Sanders cover, to give you an idea of the kind of territory they're treading. Unfortunately, there aren't any US dates planned so far. I'd love to see these guys tear up a stage, but it's looking like I'll have to wait on that one. If I hear anything about upcoming dates, I'll be sure to get on the horn. For the Canadians though, you're all set.



Subba Cultcha
By Eddie Thomas
February 2010
London, UK

The Souljazz Orchestra they may be, but the word which most perfectly encapsulates the style of music promulgated by this collection of ladies and gentlemen is not incorporated into their name. What this Orchestra has made their specialisation is best described as big-band funk, or perhaps Funk with a capital F...

Clearly influenced by the Afro-beat movement to a considerable extent, such that the relentlessly-groovy beat which underpins the funk / jazz soloing has its roots firmly in traditional African tribal rhythms, the irresistible, hypnotic, funky tunes that result could have you dancing until you collapse with exhaustion, only to resume on awakening with renewed vigour.

Though vocals are part of what they do, lyrics are scarce (and mostly not in English) and the voices are more used in the fashion of another instrument. Remarkably, every note played by each part of the ensemble seems to somehow assist and invigorate the groove at the heart of each song. Anyone partial to a bit of top quality, '70s style funk should not miss this record.



Alarm Magazine
February 16th 2010
Chicago, IL

The Souljazz Orchestra: Rising Sun (Strut)

Ottawa's Souljazz Orchestra, now with a quartet of expertly delivered albums, is much more than just another Afro-jazz ensemble.

With just six core members, the group uses its newest full-length - its first all-acoustic effort - to twirl through funk, Latin, African, down-tempo jazz, and big-band bits.

After a stirring piano-led intro and the full-blown Afrobeat of "Agbara", "Negus Negast" vies for the title of album's best with a grooving marching-funk foundation that supports a dazzling Asian flavor.

Rising Sun is challenging but accessible, and it never loses sight of its inherent mission: to get listeners moving. When 2010 comes to a close, this should stand among the best jazz-crossover discs of the year.



CHARTattack
By Chris Burland
February 26th 2010
Toronto, ON

The Souljazz Orchestra
Rising Sun
Strut

4.5/5 stars

After creating one of the premier afrobeat records of the new century with 2009's Manifesto, Ottawa's The Souljazz Orchestra shift gears to create something reflecting early 1970s jazz-rock.

It's fitting that like its title, Rising Sun begins with a quiet slow introduction called "Awakening," which could be the soundtrack to a crisp, clear dawn with its tempered multi-sax melody and shimmering [marimba]/piano accompaniment.

Things quickly pick up with "Agbara." Although it hints at Manifesto's similar direction, it illustrates the group's fresh new approach to their African-inspired big band jazz sound. There's the incendiary multi-instrumented percussion laid across full-on trumpet leads backed by some subtle vocal scatting that provides a brilliant melodic counterpoint to the song's instruments.

"Negus Negast" has more of an Arabian vibe reminding the listener of Dizzy Gillespie's jazz classic "A Night In Tunisia" with the use of [vibraphone] and bongos.

As great as Rising Sun is through the first three compositions, Souljazz don't really capture the album's sentiment until "Lotus Flower." Here, the band unveil a intoxicating mid-tempoed melody, ranking with some of Wayne Shorter's most memorable mid-'60s compositions.

The band do revisit their Manifesto period with the sprawling "Mamaya," with its driving afrobeat rhythms and striking trumpet leads.

The album completes its "day" cycle with a two-part epilogue, "Rejoice." Part one features a piano flourish ideal for that period of day, which soon transforms the sky into twilight. The band quickly move to a dance frenzy with competing sax leads and dizzyingly and driven piano solos on part two.

In the end, Rising Sun continues The Souljazz Orchestra's brilliant musical output as one of the best bands not in this nation but around the world.




Exclaim! Magazine
By David Dacks
February 2010
Toronto, Canada

The Souljazz Orchestra
Rising Sun

This isn't a change in direction so much as a reaffirmation of their many influences. Having perfected an Africa 70-inspired party vibe with their last album, Ottawa, ON's Souljazz Orchestra dial up the spiritual jazz while retaining the sonic fullness they've developed over the years. Opener "Awakening" is a richly textured - never was a baritone sax more important to their sound - invocation to Pharoah Sanders-type songwriting. But their funk is still hard and stinging. "Agbara" is the most overt Afrobeat song on the set, and "Negus Negast" gets into Mulatu-like Ethiojazz. Lest you think the album's ideas are all derivative of other influences, the band have introduced a whole new layer of polyrhythmic activity with percussion and balafon [marimba] that simply wasn't present in previous incarnations. This proves they've not only absorbed all these deeply jazzy and soulful types of music, but have figured out how to rework such influences to show the band in their best light. The changing moods and grooves of this album are well executed and sequenced, making Rising Sun their best record yet. (Strut)



Mowno
21 février 2010
Montreuil, France

The Souljazz Orchestra - "Rising Sun"

Depuis sa création en 2002, The Souljazz Orchestra ne nous a jamais déçus. Après avoir sorti ses deux premiers albums, prolongeant et renouvelant avec brio l'afrobeat kutien, sur le label torontois Do Right!, le combo revient aujourd'hui avec un troisième "Rising Sun", cette fois signé sur Strut Records. Quoi de plus naturel lorsque qu'on sait que ces musiciens originaires d'Ottawa partagent avec l'excellent label londonien une passion invétérée pour les rythmes afro venus tout droit des sixties et des seventies. "Rising Sun" se présente ainsi comme une savante restitution de ce riche héritage, couplée à l'inventivité et au talent du jeune orchestre. L'album s'ouvre sur un splendide "Awakening" porté par un piano et des cuivres étonnants de douceur, plantant un décor patiné et chaleureux, presque romantique, parfait pour mettre en condition avant d'attaquer le frénétique "Agbara", ode à la danse et à l'afrobeat comme The Souljazz Orchestra sait si bien le faire. Mais quand "Freedom No Go Die" et "Manifesto" surfaient essentiellement sur ce genre de titres sur-vitaminés, la vraie richesse de ce troisième album réside dans une alternance parfaitement dosée entre un funk nigérian puissant ("Negus Negast" et son clin d'?il à la musique éthiopienne de Mulatu Astatke, "Mamaya"), et un afro-jazz plus langoureux dans lequel cuivres et percussions s'autorisent un brin de détente et de nonchalance (le soulful "Lotus Flower", "Serenity"). Le sextet manie tellement bien ce subtil glissement d'un genre à l'autre qu'il parvient même à créer des ambiances hautement cinématographiques, dans lesquelles on s'abandonne volontiers, comme dans le sublime "Consecration" aux accents improvisés, ou dans les deux parties finales de la reprise de "Rejoice" de Pharoah Sanders, qui offrent une très belle relecture de l'?uvre emblématique du maître de l'ethno-jazz. "Rising Sun" marque donc une étape supplémentaire dans la carrière déjà brillante des canadiens. Lorgnant davantage vers le jazz, ce nouvel opus étonne par sa variété, son harmonie et son assimilation impeccable des influences africaines qui s'y nichent, dégageant une maturité exemplaire. Si bien que nous nous joignons volontiers à Gilles Peterson pour affirmer que "Rising Sun" constitue sûrement le meilleur album du groupe à ce jour. Un bilan qui n'est évidemment que provisoire, tant il ne fait pas l'ombre d'un doute que The Souljazz Orchestra a encore de merveilleuses surprises sonores à nous offrir.



90BPM
29 janvier 2010
Paris, France

Souljazz Orchestra: afro-jazz millénaire

Les six canadiens du Souljazz Orchestra nous avaient ému en deux ans avec leur carte-postale afro-beat Manifesto et des shows du tonerre. Pas une surprise donc de les savoir ultra productifs et toujours on top à l'écoute de ce tout nouvel LP, Rising Sun, à paraître via nos amis de chez Strut ce 22 février.

Pêtris d'influences (jazz bop, classique, afro-jazz, funk, afro-beat, pop), le combo SJO confirme sur 9 titres à la fois ravageurs et émouvant. Toujours dancefloor et groovy les compos de Rising Sun laissent se faufiler une vrille jazz, parfois ethio, parfois ethno, parfois US, parfois funk, mais majoritairement influencée par l'écriture orchestrale. On sent le groupe plein d'assurance, plus que jamais. Pas étonnant que Gilles Peterson en ait déjà fait un album de chevet. A redécouvir sur les scènes françaises cet été.



Jazz, Blues et Co
par Thierry
14 février 2010
France

The Souljazz Orchestra: Rising Sun (2010)

Retour aux affaires donc, avec l'un des albums les plus enthousiasmants de ce mois de février 2010 (ils ne sont pas foison!), Rising Sun, de The Souljazz Orchestra.

Tout est dit dans le nom du groupe, ou presque...

Pas vraiment (que) soul, pas vraiment (que) jazz, le collectif d'Ottawa nous revient avec leur musique fusion, mélange toujours aussi agréable et remis au goût du jour, tout en leur restant fidèle, des rythmes soul, jazz, funk et afro chers à des artistes aussi importants que Fela Kuti ou le Fania All-Stars.

Rising Sun n'a aucunement à rougir face aux deux premières réalisations du groupe, Freedom No Go Die (2006) et Manifesto (2008).

Bien au contraire, il me semble encore plus cohérent, plus coloré, plus riche, plus abouti, tout simplement et s'offrant même le luxe, en toute fin d'album, d'une magistrale relecture de Rejoice, l'une des plus grandes réussites de Pharoah Sanders.

Bref, un fort bel et chaleureux album à écouter les yeux fermés!



SentireAscoltare Music Magazine
da Gianni Avella
9 Febbraio 2010
Italia

Rising Sun
Souljazz Orchestra (The)
Strut Records

I precedenti lavori per Do Right!, Freedom No Go Die (2006) e Manifesto (2008), hanno imposto la Souljazz orchestra come fervida realtà dell'odierno panorama neo-funk-afro-jazz. Il passaggio nella casa del rinato Mulatu Astatke, ne consolida la posizione. Presentato come il loro album afro-jazz acustico, The Rising Sun combina la febbrile verve di Fela Kuti con certo jazz trascendente, in primis Pharaoh Sanders ma anche Marcus Belgrave.

Dopo l'inizio di velluto (Awakening), le danze partono con l'afro-beat di Agbara a cui seguono gli arabeschi Ethio-jazz di Negus Negast. Più spirituale di Nomo e Budos Band (ma meno in your face degli Antibalas), il combo canadese sa farsi easy listening senza cadere nel kitsch (Lotus Flower e Serenity sembrano farina del miglior Belgrave) vestendo panni post-bop come si usava alla Blue Note (Consecration). A chiudere, nonché a confermare, la ripresa di un classico minore dello stesso Pharoah Sanders, Rejoice (dall'omonimo lavoro del 1981), diviso in due parti e fastoso come in origine.

Il fan Gilles Peterson dalle frequenze della BBC di sicuro apprezzerà. Nondimeno noi.



CHARTattack Magazine
By Chris Burland
January 22, 2009
Toronto, Canada
4.5/5

Manifesto is the highly anticipated follow-up to 2006's Freedom No Go Die. From the first note, it continues to expose the Ottawa multicultural collective's musical and thematic intricacies. Like their American counterparts Antibalas, Souljazz mix driving funk rhythms with searing politically charged lyrics. Manifesto opens with [...] cultural ode "Parasite," which questions the supposed equality in a democratic society. Then the band gets super-charged for their condemnation of the capitalist system on "Kapital," which is particularly appropriate in lieu of the recent stock market crash. The album becomes less vocal-dominated as the band get their funk on with "State Terrorism." Here, the spirit of James Brown's backing band is reflected in the collective's performance, especially Pierre Chrétien's vintage '70s organ sounds. In channelling the spirit of Fela Kuti and Afrobeat, The Souljazz Orchestra outshine Kuti's son Femi with "Interested Benevolence," which brilliantly recaptures the band's live sound and energy. The laid-back "Grasshopper & Toad" shows the collective can also handle the subtleties of a purer form of West African soul-folk music. Manifesto is definitely a marquee album.



Dusty Groove America
Chicago IL
2008

A searing second set from Souljazz Orchestra -- easily one of the funkiest groups in the contemporary Afro Funk underground! The set's even sharper than their first -- really tight on the rhythms, which are filled with skittish guitars that cut a groove strongly -- vamping and quick-stepping with a wicked sort of feel that brings back plenty of James Brown influence to a 70s African sound! There's lots of great horns and keyboards too -- again played with a sharpness that's wonderful -- a meaningful approach to solos that's not as extended as on other records, but often much more powerful. Vocals are often shouted or called -- second stage, next to the instrumentation -- and titles include "State Terrorism", "Kapital", "Parasite", "Interested Benevolence", "Amen", and "Grasshopper & Toad".



Webzine M-La-Music
par Stephane Andrieu
14 décembre 2008
France

Pleinement dans la tradition. Celle d'un orgue fou et de guitares qui composent des rythmiques de feux de brousse. Voilà ce qu'on ressent aux premières écoutes, et encore bien plus celles qui suivront. L'afrobeat était une chapelle, avec cet orchestre, elle se pare de contreforts et s'érige en cathédrale.

Etonnamment, on ne se situe pas au Nigéria, berceau fondateur, ni même en Afrique, mais ce Manifesto est le fruit d'un sextet canadien, ouvert à d'autres musiciens mais surtout aux sirènes de l'afrobeat le plus pur d'un côté et des gardiens du grand tremblement de l'autre, Dap Kings et autres Budos Band en tête. S'il n'y avait une descendance légitime à la musique de Fela, on pourrait aisément lui confier l'héritage encombrant mais convoité. A l'heure de la canonisation du maître et de son biopic made in Broadway, force est de constater que le groove africain est passé dans tous les circuits des agitateurs de gambettes. Car le Souljazz Orchestra, non content de marcher sur les plates-bandes de la famille Kuti y boute le feu et le laisse se propager bien autour, notamment parce qu'il autorise sa musique à sortir ici et là des canons habituels de la bienséance et de la retenue musicale, en laissant le sax s'enrichir d'un grain et d'un souffle plus dense que celui que la raison voudrait retenir.

Après le carton de leur single "Mista President" tiré de leur précédent album, et qui figurait dans bon nombre de playlists et de compilations, le Souljazz Orchestra se devait faire fort. Amateur de jazz et de grandes secousses, le collectif parvient à brasser toutes ses influences, de Mulatu Astatqé à Manu Dibango dans le même chaudron sans que le résultat ne paraisse ni forcé ni insipide, s'affranchissant ainsi de son modèle tout en lui restant terriblement fidèle.



Magazine Fonkadelica
par Boogie Bass
28 octobre 2008
France

Il y a deux ans, notre doctor es-afrobeat, toujours à l'affût des nouveautés j'ai nommé Martin Smith (de Café Crème et les Frères Smith) nous met la puce à l'oreille en nous parlant d'un groupe nommé The Souljazz Orchestra venu tout droit d'Ottawa, comme distillant un "Afro-funk so groovy! Enorme!". Après nous être informé auprès du groupe et avoir reçu le fameux graal, notre conclusion est la même : tout simplement fabuleux! Le deuxième opus du combo est en effet un florilège de saveurs qui assument les racines de Fela tout en s'inspirant d'autres sources : jazz, sons latins, soukouss. Notre chronique de l'époque élogieuse, nous fait dire que le groupe a un énorme potentiel qui va exploser à la face du monde! D'ailleurs peu de temps après notre confrère de Bokson, Kalcha, confirme nos dires et tout ceux qui écoutent cet album en viennent presque tous à des critiques dithyrambiques. Tout va très vite ensuite, le groupe trouve un distributeur français (La Baleine), est largement diffusé sur Nova et fait même une tournée française et européenne qui confirme le talent du groupe sur scène.

Dire que ce troisième album était attendu est donc un doux euphémisme. Rassurons tout de suite les impatients, celui-ci sorti chez Do Right! Music, est le digne successeur du précédent. Sans pour autant garder ce côté éclectique, le groupe s'est concentré sur des compositions purement afro-beat / afro funk avec également des variantes funk sur deux morceaux. Le premier 45t de cet album ("Parasite / State Terrorism") sorti au début de l'été laissait déjà présagé du meilleur. En sept titres The Souljazz Orchestra renouvelle son hold up musical par son afro-beat conscient certes, mais efficace, dansant et accessible comme sur "Parasite" ou "Interested Benevolence" ou plus subtil et introspectif comme sur "Kapital" ou "Amen". Quand au titre "People, People" il est presque la fusion parfaite entre Fela et James Brown c'est-à-dire un afro funky qui vous rentre directement dans la tête avec sa rythmique qui martèle, ses cuivres qui vous entêtent et son gimmick fédérateur. Tout simplement jouissif! Et côté funk le groupe se la joue quasiment blaxploitation avec un orgue omniprésent et des cuivres qui donnent le change sur "State Terrorrism". Là encore le résultat est bluffant!

Vous l'aurez compris, pas besoin d'en dire plus, "Manifesto" risque de rester mon disque de chevet pour un sacré bout de temps! Et sans en rajouter dans la surenchère et les superlatifs, je dirais que Souljazz Orchestra est le meilleur groupe d'afro-beat du moment! Cet album confirme le talent du groupe déjà révélé sur le précédent opus. Il va falloir désormais compter avec The Souljazz Orchestra dans notre paysage musical. Vivement leur nouvelle tournée française que l'on se régale en live de ces nouvelles compositions!



Voir Montréal
par Stanley Péan
20 novembre 2008
Montréal, Canada

Quel enthousiasmant amalgame de soul obsédant, de jazz tropical, de funk torride et d'afrobeat! Après un deuxième album mémorable, porté par la présence du Rwandais Mighty Popo (Freedom No Go Die en 2006), le collectif multiethnique basé à Ottawa remet ça et se surpasse littéralement avec cette musique endiablée, faite de grooves irrésistibles empruntés tantôt à James Brown, tantôt à Fela Kuti, d'envolées cuivrées vertigineuses, de dérapages contrôlés aux claviers et de délires percussifs propres à la transe. En bref, ces sept plages, dont on retient notamment "People, People" et "State Terrorism", constituent la trame sonore idéale de vos prochaines bamboulas et l'antidote tout indiqué au spleen de fin d'automne!



Openmag
par MJ
2008
France

Ça groove sévère du côté du [sextet] d'Ottawa. Avec ce deuxième album sur le label Do Right!, The Souljazz Orchestra publie ce "manifeste" dansant qui ravira les amateurs d'afrobeat. Morceaux brefs - entre cinq et six minutes - pour ritournelles entêtantes à base de cuivres, d'orgue, de percussions, de guitares et de chants aux rythmes entraînants. Leur son s'est enrichi de nouvelles influences au cours de leur dernière tournée mondiale, où ils ont pu partager la scène avec Femi Kuti, Etta James et Sharon Jones & the Dap-Kings.



VoxPopMag
par Mathias Kusnierz
le 14 mai 2009
Paris, France

"The Souljazz Orchestra à la Bellevilloise : l'Internationale Afro-Beat dans toute sa splendeur"

C'est peu dire que The Souljazz Orchestra était attendu à la Bellevilloise ce mercredi 13 mai. Verdict : un live absolument explosif.

De manière tout à fait personnelle, et parce qu'une année de concerts est forcément le reflet de choix arbitraires, ce live du Souljazz Orchestra sera l'un des tous meilleurs de cette année 2009, et pour l'instant, il remporte haut la main la médaille du concert le plus intense. Il faut dire que le public est exceptionnellement réceptif ce soir : est-ce dû aux sélections de Betino, le DJ qui se charge de chauffer la salle, au climat orageux et électrique de ce mercredi ou à l'intervention explosive de Café Crème et les Frères Smith en première partie ? Je penche pour les trois solutions, et particulièrement pour la dernière. Le groupe parisien (trois saxophones, alto, ténor et baryton, une trompette, une percussionniste, un bassiste, deux guitaristes, un clavier, un batteur) maîtrise sur le bout des doigts son bréviaire de l'afro-beat. A défaut d'une approche qui renouvellerait le genre, leur maîtrise et leur énergie en font un excellent groupe de scène, doté d'une belle maîtrise du répertoire, de Fela à Mulatu. A quoi s'ajoutent des compositions originales de très bonne facture. On est conquis par tant de qualités !

Et puis, arrive sur scène The Souljazz Orchestra, plus qu'attendu par une foule nombreuse. Par rapport à Café Crème et les Frères Smith, le line-up est plus restreint : trois saxophones (un alto, un ténor, un baryton), une chanteuse qui manie le shekere, un batteur et un clavier qui chantent également. Pas de basse, ni de guitare. Le set que va administrer le groupe, tout en puissance et énergie, sans temps mort, sera littéralement dévastateur, et le mot n'est pas exagéré. Les choses commencent pourtant assez doucement, avec « Kapital », tiré de Manifesto. Suivent d'autres titres de Manifesto : « Parasite », « Amen ». Le groupe joue longtemps, pas loin de deux heures. Il a donc tout l'espace dont il a besoin pour donner aux titres interprétés ce soir le temps de digressions efficaces et bienvenues. Parfois, il fusionne ensemble deux titres, qui ne forment alors qu'une seule et même longue coulée sonore hypnotique, incantatoire.

Les meilleurs titres du répertoire du Souljazz Orchestra se révèlent incendiaires sur scène, et le public ne s'y trompe pas, qui participe avec enthousiasme et se déhanche à n'en plus finir : entre l'anonyme à chapeau de cowboy complètement fait qui insiste pour monter sur scène et l'un de mes voisins qui ponctue tout le set de « Ohlala ! » extasiés, il s'est passé un certain nombre de choses fortes ce 13 mai. Ainsi, « Mista President », ponctué et relancé périodiquement par un « woh ! » de l'ensemble du groupe, ou « Freedom No Go Die », semblent ne jamais finir et sont un pur bonheur à l'écoute. On est vite à court de superlatifs devant l'excellence d'un pareil set. Après « Money », un titre inédit, et deux rappels dont un [« All These Things Shall Pass »] très reggae, le concert se clôt et laisse le public pantelant, abasourdi par tant de puissance. The Souljazz Orchestra est en passe de devenir un groupe de scène de tout premier plan et c'est une excellente nouvelle !



Stourbridge News
By Bev Holder
May 6th, 2009
Birmingham, UK

"Souljazz Orchestra get music fans into the groove"

Canada's Souljazz Orchestra got music lovers into the groove when they stopped off at the Hare & Hounds in Kings Heath at the weekend.

The sensational six-piece from Ottawa packed out the dancefloor and simply bewitched the audience with their vibrant and catchy blend of Afro beats when they took to the stage at the Birmingham pub on Saturday May 2 - on the final date of their UK tour.

The multi-talented ensemble soon had music fans singing and dancing along to their soulful, almost hypnotic dirty funk/tropical jazz numbers, many of which were taken from their latest album Manifesto.

Tambourinist Marielle Rivard, drummer Philippe Lafrenière and electric pianist, organ and clavinet player Pierre Chrétien took turns on treating the crowd to their compelling vocals.

While super smooth saxophone players Steve Patterson (tenor sax, percussion and vocals), Ray Murray (baritone sax, percussion, vocals) and Zakari Frantz (alto sax, flute, percussion, vocals) mesmerised partygoers with their spell-binding style and skill.

Formed back in 2002, the band have already enjoyed success with their 2006 album Freedom No Go Die and have toured Europe, Canada and the States extensively.

And with rave reviews in the bag, and more and more international dates flooding in - they look set for even bigger things.

Definitely one to catch when they come back around.



SoundProof Magazine
By Rachel Weldon
January 22, 2009
Toronto, Canada

"The Souljazz Orchestra at Le petit Chicago"

Very few bands can transcend world music genres ? funk, jazz, Afrobeat and soul among countless others ? and still remain as appealing to the masses as The Souljazz Orchestra.

Squeezed into the corner of Le petit Chicago's modest stage setup in Hull, the six band members seemed in their element in front of a crowd of cosmopolitan hipsters shaking their layered manes and raising their glasses with each saxophone wail or hearty grunt heard. Having provided a benevolent surplus, the band had no problem coaxing their elated crowd into hip-shaking submission.

Female vocalist Marielle Rivard charmed listeners with her soulful croon, accompanied at the front of the stage by a panel of soulfully inclined saxophonists: Zakari Frantz on alto, Steve Patterson on tenor and Ray Murray on baritone. Their collective onstage presence enlivened audience members with not only an aurally seductive sound but also a heart-beating electricity reverberated by the band's unceasing energy.

"People People", the politically charged funk anthem sung by drummer Philippe Lafrenière, particularly stood out that evening. The track, a single from the band's latest release Manifesto, embodied all aspects that The Souljazz Orchestra regularly demonstrate ? a collective yearning to broadcast their strong political leanings coupled with the talent and gusto to breathe soul into a wobbly audience with an intoxicating funk song.

The band concluded the evening with an encore of "Mista President", a favourite from their second album Freedom No Go Die, giving the audience one last taste of that soul jazz sensation before saying goodnight.



Dusty Groove America
2007, Chicago IL

More Afro Funk than the soul jazz you might guess from the group's name -- but that's OK with us, because the record's plenty darn great! Souljazz Orchestra are one of the best of the current wave of Afro combos to hail from Canada -- and they manage to get an incredible full sound from a surprisingly small range of instruments -- usually just 3 saxes, a trumpet, keyboards, and percussion -- but played with a sense of power to earn them the "orchestra" in their name! There's a definite Fela influence going on here -- grooves that move fast with very skittish rhythms -- snaking out with great horn bits and keyboard lines. But the overall approach is a bit tighter too -- much more focused at times, on slightly shorter tunes, about half of which are vocal numbers. Two tracks have the group breaking format a bit -- a great cover of "The Creator Has A Master Plan" and the Latin-inflected "Little Habana" -- and other tunes include "Mista President", "The Blind Leading The Blind", "Insurrection", and "Mojuba".



Straight No Chaser Magazine
Issue 43, November 2006
London UK

The Souljazz Orchestra's 'Freedom No Go Die' pays homage to the Afro Beat sound of Fela Kuti, while including soukous, salsa, free jazz and the sound of seventies funk in the mix to make an impressive second album. Since 2002, the Ottawa based band have combined this amalgamation of firing horns, funky keyboards and polyrhythmic beats to rock dance floors across Canada. The album features fiery performances by the Rwandan/Burundian artist Mighty Popo, as well as by two of Ottawa's top soul singers, Alanna Stuart and Marielle Rivard. If Fela, James Brown, Tito Puente and Herbie Hancock are your thing track this down now. Worth the admission price alone for their brilliant version of 'The Creator has a Master Plan'.



Bokson
par Kalcha
12 septembre 2006
Paris, France

Il paraît qu'on connaît l'hiver le plus doux depuis des décennies (moi perso, j'avais pas remarqué, mais bon, je suis pas météorologue non plus?). J'ai tout de même ma petite théorie sur les causes de ce réchauffement climatique inopiné. Ces dernières semaines, je n'ai pas arrêté d'écouter le second album de The Souljazz Orchestra (rien à voir avec le célèbre label londonien), et à coup sûr, ça a fini par avoir quelques répercussions sur la température ambiante!

Il faut dire que ce «Freedom No Go Die» ressemble à une cocotte-minute sur le point d'exploser: ça fume de partout, ça gronde en dessous, et ça fait trembler les alentours. A moins que ça ne soit moi en train de danser dans mon appartement?!

Quoiqu'il en soit, le quintette d'Ottawa a véritablement le groove dans le sang. La basse vous caresse les hanches, la batterie vous attrape les chevilles, et les cuivres vous montrent la chorégraphie. Un peu à l'instar des New Yorkais d'Antibalas, The Souljazz Orchestra emprunte au latin jazz, au funk, à la salsa et à la musique africaine (leur «Secousse Soukous» est même d'ailleurs un peu loin de nos bases musicales) pour pimenter son afro beat chaud bouillant. Le résultat séduira donc autant les fans de Manu Dibango, de Ray Barretto, de Mulatu Astatke, des JB's, de Don Cherry ou de Phaorah Sanders, dont ils reprennent ici «The Creator Has A Masterplan».

Malgré cet éventail d'influences, le groupe a l'intelligence de ne pas s'éparpiller et vise l'efficacité avant tout (les morceaux durent 5 minutes en moyenne, quand les standards du genre dépassent souvent le quart d'heure). Une concision fort bien venue qui devrait aider le groupe à dépasser le simple cercle d'initiés. Ecoutez par exemple Gilles Peterson qui n'arrête pas de louer sur toutes les ondes les qualités de ces Canadiens. Le célèbre DJ anglais a d'ailleurs retenu sur son site le «Mista President» de The Souljazz Orchestra comme l'un des meilleurs morceaux de 2006. Difficile de le contredire en entendant ce jeu de question/réponse entre le chant lead de Mighty Popo et les ch?urs qui feraient remarcher un hémiplégique! Et on pourrait quasiment retourner le compliment à la totalité du tracklisting (même si, bon, «Secousse Soukous» Bref).

Vous vous souvenez du titre qu'a choisi Meï Teï Shô pour son récent dvd posthume: «Dance & Reflexion»? La formule pourrait servir de slogan à tout le mouvement afro beat, et assurément de fil conducteur à cet album puisque les titres des morceaux ne laissent pas beaucoup de doutes sur les revendications sociales et politiques du groupe («Mista President», «The Blind Leading The Blind», «Insurrection», «Freedom No Go Die», «Little Habana»), ce qui les inscrit d'office dans la grande lignée des fils spirituels du juste Fela.



Exclaim! magazine
By Matt Bauer
November 10, 2006
Toronto, Canada

Fela Kuti is dead but his spirit is alive and well on the Souljazz Orchestra's Freedom No Go Die. On their sophomore disc the Ottawa quintet (joined by Rwandan/Burundian artist Mighty Popo on three tracks) craft a sound as tight as the power fists that adorn the cover. Songs of resistance, revolution and positivity in the best of the Afrobeat tradition are the matters of the day here with titles like: "Mista President" and "Blind Leading the Blind" bringing politics to the forefront. But it is searing instrumentals like the mid-tempo "Insurrection," with Pierre Chretien's percolating clavinet and bottom heavy bass as well as Philippe Lafreniere's congas and urgent percussion that drive the groove home. Other outstanding tracks include the slow burning "Mojuba" and a cover of Pharoah Sanders' "The Creator Has A Master Plan" (featuring fellow Ottawan Marielle Rivard on vocals) that steadily maintains a funky yet meditative pulse thanks to some tasteful flute and an intense sax solo. Freedom No Go Die? Not as long as outfits like the Souljazz Orchestra continue to make music like this.



Let's Motiv
"Le funk est d'or", par Baptiste
octobre 2007
Toulouse, France

Si Shaft devait renaître, il choisirait le Souljazz Orchestra pour illustrer ses aventures. Une bande son télescopant toutes les musiques afro-américaines du 20e siècle, orchestrant l'ambiance faite de débrouille et de misère banale des ghettos urbains, mais aussi exigence de l'existence dans ce qu'elle peut avoir de plus léger, urgence d'être tout simplement. Le discret martèlement des percussions sonne le rappel de racines ancestrales et nous délivre des forêts d'immeubles. Un son furieusement funky à la pulsion de vie salutaire, à l'image des poings levés ornant la pochette de l'album Freedom No Go Die (Do Right! Music). Une énergie en diable qui anime les corps dans une transe assoiffée de liberté et de délice.



Highlife World Music
Best of 2007
December 2007
Vancouver, Canada

The Ottawa group Souljazz Orchestra has come up with one of the most impressive Afrobeat CDs we've ever heard. Great horns, bass lines, singers and the ability to incorporate a variety of styles ensure a rewarding listen from beginning to end.