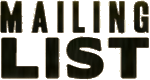 Send us an e-mail to be added to our mailing list.







souljazz@hotmail.com







The Souljazz Orchestra
on Twitter







The Souljazz Orchestra
on Facebook







CD Baby
Strut Records
Do Right! Music
Marlow Records
Atlantis Jazz Ensemble
Slim Moore
People Project
Phil Motion
Zakari Frantz
Timekode




RESISTANCE is here.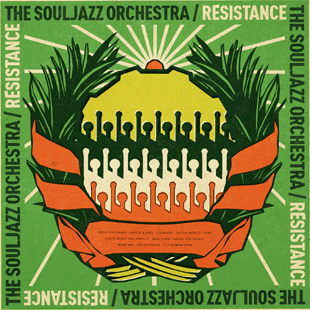 11 04 2016 - Africa!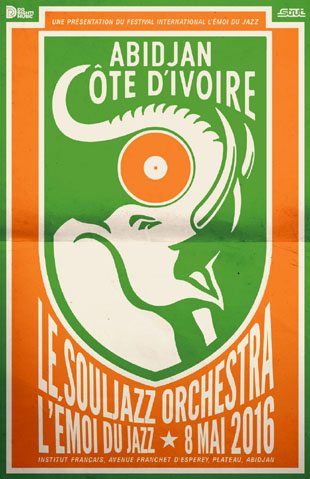 So big news! Souljazz is heading over to Abidjan, in Côte d'Ivoire, on Sunday May 8th 2016, to play its first concert ever on African soil, for l'Émoi du Jazz International Festival. For our Ivoirian brothers and sisters, we've prepared a special mix of coupé-décalé, zouglou, jazz, and all sorts of other phonky stuff, this one's not to be missed if you're in the area.



We then come back to Canada to headline Westfest in Ottawa on Saturday June 4th. The line-up's looking good, this year's especially heavy on the 613, can't wait.



And finally, after that, we take off for Europe for most of the summer. Looks like we're hitting up France, the UK, Ireland, Germany and Italy so far, but we're still adding more dates. We'll keep you posted!



Oh, and looks like we didn't get that Juno after all, but hey, there's always next time!



I want more info on the upcoming shows >>
I want more info on the new album >>




02 02 2016 - Juno



Woohoo! Just found out our latest album Resistance was nominated for the Juno Award for "World Music Album of the Year"... Now this is our third nomination, but we've never won one of these suckers, let's hope the third time's a charm! Hmm, just gotta find out how to get out to Calgary, the ceremony's the weekend of April 3rd...



I want more info on the Junos >>
I want more info on this new album >>




18 12 2015 - We Free Kings



So Christmas is comin' a little early this year... We've got a FREE NEW TRACK for you guys!



Get this - it's the Souljazz Orchestra doin' a dark & stormy Afro-Jazz version of the ole Christmas carol "We Three Kings". It was recorded during the Resistance sessions, for a compilation that never happened, so our loss is your gain! Turned out pretty badass too, believe it or not, check it out!



The Souljazz Orchestra - We Three Kings



11 11 2015 - Home Cookin'



So we're back home in Canada! Man, that 6-week European album release tour was a killer, but man, it was worth it... 28 concerts in 9 different countries, this was the biggest Euro tour we've ever done.



Some of the highlights: a packed-like-sardines sold-out show at the mythical New Morning in Paris, where legends like Prince, Bob Dylan and Richie Havens stood before us; a moving concert at the Jazz Cafe in London, where our bari saxophonist Ray Murray was reunited with long-lost family from Jamaica; a ruckusy show at the ultra-hip Yaam in Berlin, which also doubled as a refugee centre, where over a hundred Syrians were let in for free, and got down to the Souljazz with local fans...



We also played live on Radio France International for about 40 million listeners (no joke!), as well as En Lefko, the hippest radio station in Greece, where we were also interviewed by Mrs. Kafka, the host of the 2004 Athens Olympics... Pierre even deejayed on Radio Nova in Paris every day for a week, dropping the mad tropical badness for an unsuspecting French public.



If you wanna hear some more tour stories, check out our Facebook page and scroll down, we kinda kept a diary going on the road.



So now we take on Canada! Our Canadian "Resistance" Album Release Tour takes us to Ottawa/Gatineau, Hamilton, Toronto, Québec and Montréal in the next little while, don't sleep! For more info on shows and tickets, see our "Shows" page.



Oh, Resistance is still #1 on the earshot! International charts in Canada, it's been holding the top spot for over 12 weeks now, it's some kinda record! Thanks to everyone that's been supporting us back here in Canada!



I want more info on the upcoming tour >>
I want more info on the new album >>




01 10 2015 - Top Of The World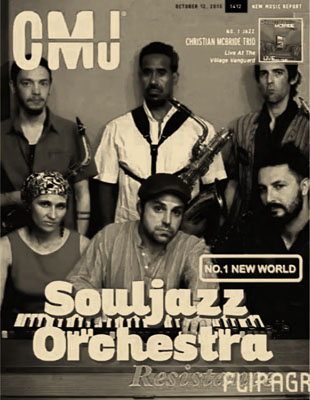 Whoa! #1 in the US, #1 in Canada!



Our new album Resistance just slipped into the #1 spot on the CMJ New World charts in the USA, and it's been holding steady at #1 on the earshot International charts in Canada for the last 6 weeks now. They even put us on the cover of this week's CMJ New Music Report, man...



Y'know, we've been together 13 years as a band, put out 7 albums now, and that's never happened... Our deepest gratitude to everyone supporting the Souljazz Orchestra.



So what do we do now that things are goin' well in North America? We take off for Europe! (Canadian tour starts in November, we'll be back!)



If you haven't bought your tickets for the upcoming shows yet, now's the time! Ticket info's on our "Shows" page.



I want more info on the new album >>
I want more info on the upcoming tour >>




26 09 2015 - 33 Revolutions Per Minute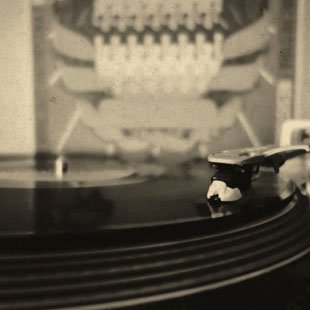 The vinyls just came in! Ah man, they look and sound amazing... The sleeve's printed on this rough unfinished cardboard, really brings out the rootsy quality of the artwork, and there's even a CD included inside the sleeve along with the LP.



And the sound! Ah, the vinyl cut was specially prepared by a guy called Peter Beckmann at Technologyworks Mastering in the UK, from unlimited masters of the album - wow - hate to say it, but to our ears these really do sound better than the digital version, and lightyears ahead of the streaming stuff...



We're about to take off on our massive international tour, if you don't have your tickets, now's the time to get em! If you go to the "Shows" section of our website, you'll find ticket links and show details.



I wanna buy the vinyl >>
I want more info on the new album >>
I want more info on the upcoming shows >>




04 09 2015 - It's Out!



The wait is over, our new album Resistance comes out today online and in better records stores! Now there's been a slight delay at the vinyl factory, so it's only available in CD and digital format for now, but don't worry, the vinyl LP is coming!



Our Resistance international album release tour has just been finalized too... Man, it's huge! 32 concerts across 10 different countries, all in the span of 2 months. If you go to the "Shows" section of our website, you'll find details on the concerts, along with ticket links. Better get them now if you can, a lot of these are gonna sell out fast.



I wanna buy the CD >>
I wanna buy the MP3 version >>
I want more info on the new album >>
I want more info on the upcoming shows >>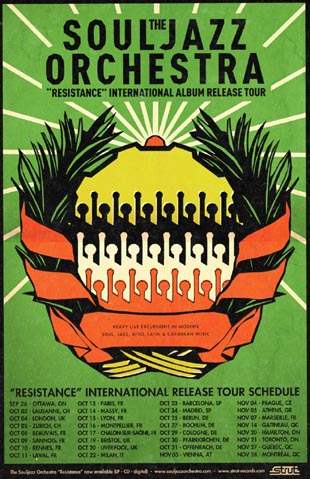 30 08 2015 - Courage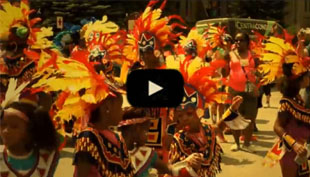 Wax Poetics just premiered the video for our new single, "Courage". This one fuses heavy raw French Caribbean Compas and Cadence rhythms with full-on big-band style arrangements, and we shot the whole video during our last show in Montréal, showcasing Carifête, the Jazzfest, the Tam-Tams, and all sorts of stuff happening round the Mtl downtown... Chauffez!



Let's see this video >>
Let's see the Wax Poetics article >>
I want more info on the new album >>
I want to pre-order the new album >>
I want more info on the upcoming shows >>




11 08 2015 - Bull's Eye



So we've got something else for ya... PopMatters just premiered another new track from our upcoming album Resistance, a super-heavy Afro cut called "Bull's Eye", you might have heard it on Gilles Peterson's show recently.



Inspired by the Occupy movement, the bull in the tune refers to the Charging Bull on Wall Street, the iconic symbol of unbridled capitalism... The lyrics tell the rest of the story. It's up on YouTube right now, check it out.



Oh, you can even download the track for free.



Hey, and for what it's worth, we just found out Resistance is already #1 on the International charts for indie radio in Canada!



I wanna stream this tune >>
I wanna download this tune >>
Let's see this chart >>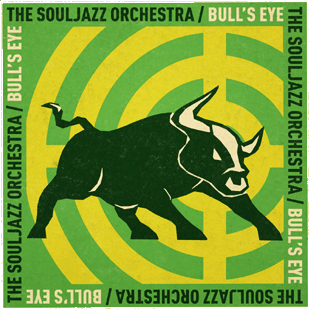 15 07 2015 - Shock & Awe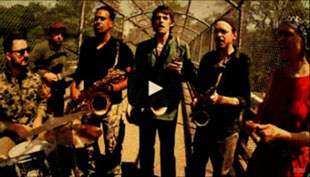 Aw right, so we just released the first video from our upcoming album Resistance! The track is called "Shock And Awe", a righteous, manic Coupé-Décalé joint celebrating people power with ruckus. (If you don't know Coupé-Décalé music, it's a dope style of electronic dance music that came out of the Ivory Coast and the Ivoirian community of Paris recently enough, and it's now taking the rest of the world by storm. Mind you, we kinda flip the genre around, and do it in our own raw, rugged, organic way, on traditional instruments - but we keep the fiyah!) So the new video's up on YouTube right now, check it out!



Let's see this video >>
I want more info on the new album >>
I want to pre-order the new album >>
I want more info on the upcoming shows >>




23 06 2015 - Resistance



Man, do we have news for you! The Souljazz Orchestra is droppin' a brand new album, called Resistance, this coming September, continuing our collab with UK-based Strut Records and Canada-based Do Right! Music. And ooh boy, this one's cookin' - maybe our baddest, heaviest, most dancefloor-driven album ever.



Now we were inspired by a lot of the fresh sounds comin' out of the discothèques of Francophone Africa (Coupé-Décalé, Zouglou, Ndombolo) and the French Caribbean (Zouk, Compas, Cadence), so you'll hear some of those vibes mixed in with the raw Afro, Soul and Jazz that we're known for... It makes for a really interesting sound overall - definitely phonky, but in a different, not-so-obvious way, y'know?



Lyrically, in the wake of the Occupy Movement, the Arab Spring, and the Ferguson Riots (to only name a few), we wanted to express the deep sense of dissatisfaction with the status quo that we're feeling within the people and within ourselves - it's obvious there's a real thirst for social justice and positive political change throughout the world today. The songs tackle some of the issues we're presently facing, but with a hopeful look to the future.



The album comes out September 4th 2015, followed by a major new international release tour, throughout Europe and Canada, from late-September all the way to early-December. Stay tuned for details!



I want more info on the new album >>
I want more info on the upcoming shows >>





For more info, see the complete schedule.



May 08 - Abidjan, Côte d'Ivoire - Émoi du Jazz
Jun 04 - Ottawa, ON - Westfest
Jun 30 - Lärz, DE - Fusion Festival
Jul 01 - Largs, UK - Kelburn Garden Party
Jul 02 - Lille, FR - Maison Folie Wazemmes
Jul 03 - London, UK - BST Hyde Park
Jul 07 - La Roche-sur-Yon, FR - Festival R.Pop
Jul 08 - Paris, FR - New Morning
Jul 09 - Tours, FR - Terres du Son
Jul 10 - London, UK - Jazz Cafe
Jul 15 - Dublin, IE - Sugar Club
Jul 16 - Galway, IE - Róisín Dubh
Jul 19 - Manchester, UK - Band On The Wall
Jul 21 - Birmingham, UK - Hare & Hounds
Jul 22 - Pisa, IT - Arno Vivo
Jul 23 - Rome, IT - Monk Club
Sep 23 - Waterloo, ON - Starlight
Sep 23, 24 or 25 - Port Hope, ON - Cultivate
Sep 24 - Toronto, ON - Small World Festival
Oct 01 - Montréal, QC - Groove Nation
Oct 15 - Ottawa, ON - Babylon
Nov 05 - Chelsea, QC - Camp Fortune
Dec 10 - Gatineau, QC - Petit Chicago