The heat is comin'... UNDER BURNING SKIES.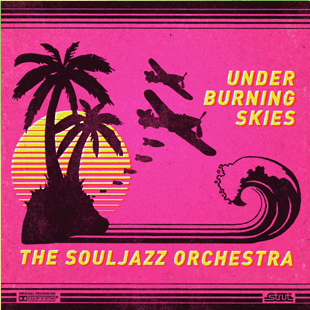 22 09 2017 - Bomb Drops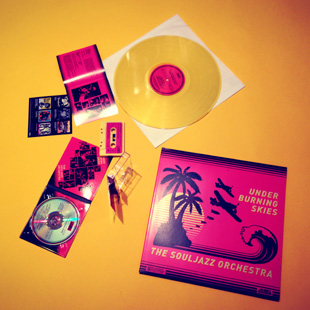 It's out! Our new album Under Burning Skies comes out today in vinyl LP, cassette, CD, and digital formats, online and in your better record stores...


I want the vinyl LP >>
I want the CD >>
I want the MP3 Release >>
I want more info on the album >>




12 09 2017 - Dog Eat Dog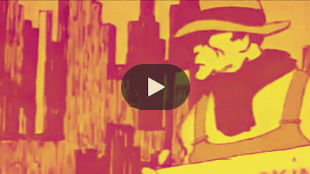 So big news - our first video is now out! New York City's Mass Appeal just premiered the vid for our new single, "Dog Eat Dog", the opening track from our upcoming album Under Burning Skies, check it out:



The Souljazz Orchestra - Dog Eat Dog >>




22 08 2017 - First Play Live



We're gonna be on TV! We'll be playin' a 1-hour concert for the CBC, which is gonna be filmed and recorded, then used for TV, radio, and other stuff.



The actual show is sold-out, but you can stream it live as it happens on the CBC Music Facebook Page at 7PM on Wednesday September 13th.



Take me to this CBC Music Facebook Page >>




10 07 2017 - Under Burning Skies



So brace yourselves, there's a brand new Souljazz Orchestra album, Under Burning Skies, comin' out September 22nd! We explore new territory on this one, pullin' out dusty 1980s synthesizers and drum machines for the first time, and incorporating lo-fi disco, boogie and electro touches to our trademark horn arrangements and earthy analogue sound.



We've already got a taste for you up on Soundcloud and YouTube, a spacey electro-funk flavoured track called "Lufunki", bringin' the Afro styles to Beat Street, and featurin' our very own Ray Murray on bari sax and lead MC duties... It was just previewed last Friday by our peeps at FIP in France and Greedy For Best Music in Germany, and currently sits at #1 on the Spotify Global Funk playlist, check it out!



The Souljazz Orchestra - Lufunki >>



Man, we're stoked for this album to come out - it'll be on Do Right! Music in Canada and Strut Records in the rest of the world, and we'll have it in vinyl LP, CD, cassette, and digital formats. You can pre-order the album here.



We've got a massive international release tour lined up as well, almost 30 concerts, in 10 different countries, on both sides of the Atlantic...



Stay tuned for more details!



I wanna hear the new single "Lufunki" >>
I want more info on this upcoming tour >>
I wanna see more from Strut Records >>
I wanna see more from Do Right! Music >>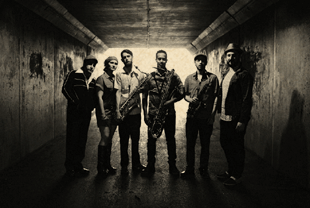 13 03 2017 - Harmagedon



New Souljazz Orchestra track! And it's free if you hurry up!



The Souljazz Orchestra - Harmagedon



Well, new old track anyways... Our Canadian label, Do Right! Music, is turning 15 years old this year, and they'll be celebrating by releasing an EP of all sorts of unreleased gems by The Souljazz Orchestra, Atlantis Jazz Ensemble, The Soul Motivators, and others... "Harmagedon" is a vintage unreleased Souljazz track we recorded quite a few years back... The vibe didn't quite fit in with the other stuff we were putting out at the time, so it stayed in the vaults... Until now!



Oh, and by the way, we've also got two Do Right 15 concerts coming up soon, in Ottawa on Friday March 24th, and in Toronto, on Saturday April 8th, with lots of special guests... Don't sleep!



I wanna hear this new track >>
I want more info on these upcoming shows >>




12 08 2016 - Coming Home



So we're back in Canada for the next few months, hitting up venues across Ontario and Québec, while working on a new album at the same time! Check out the full schedule for show details.


I want more info on the upcoming shows >>




11 04 2016 - Africa!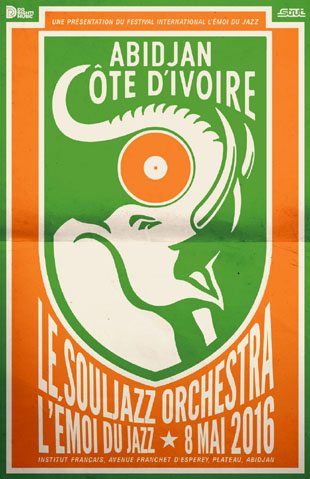 So big news! Souljazz is heading over to Abidjan, in Côte d'Ivoire, on Sunday May 8th 2016, to play its first concert ever on African soil, for l'Émoi du Jazz International Festival. For our Ivoirian brothers and sisters, we've prepared a special mix of coupé-décalé, zouglou, jazz, and all sorts of other phonky stuff, this one's not to be missed if you're in the area.



We then come back to Canada to headline Westfest in Ottawa on Saturday June 4th. The line-up's looking good, this year's especially heavy on the 613, can't wait.



And finally, after that, we take off for Europe for most of the summer. Looks like we're hitting up France, the UK, Ireland, Germany and Italy so far, but we're still adding more dates. We'll keep you posted!



I want more info on the upcoming shows >>
I want more info on the new album >>










Send us an e-mail to be added to our mailing list:
souljazz@hotmail.com





For details, see the complete schedule.



Under Burning Skies Release Tour



Sep 23 - Ottawa, ON - Babylon
Sep 29 - Montpellier, FR - Le Jam - Tix
Sep 30 - Brussels, BE - AB Club - Tix
Oct 01 - Dublin, IE - Sugar Club - Tix
Oct 02 - Leeds, UK - The Hi-Fi - Tix
Oct 03 - Manchester, UK - Band On The Wall - Tix
Oct 04 - Bristol, UK - The Fleece - Tix
Oct 05 - London, UK - The Rich Mix - Tix
Oct 06 - Zurich, CH - Stall 6 - Tix
Oct 07 - Lausanne, CH - Holy Groove - Tix
Oct 08 - Heidelberg, DE - Karlstorbahnhof - Tix
Oct 10 - Berlin, DE - Gretchen - Tix
Oct 11 - Copenhagen, DK - Pumpehuset - Tix
Oct 12 - Saint-Nazaire, FR - Le VIP - Tix
Oct 13 - Paris, FR - New Morning - Tix
Oct 14 - Brétigny-sur-Orge, FR - Rack'am - Tix
Oct 15 - Stockholm, SE - Stockholm Jazz - Tix
Oct 17 - Lyon, FR - Marché Gare - Tix
Oct 18 - Gennevilliers, FR - Le Tamanoir - Tix
Oct 19 - Thessaloniki, GR - Principal Club - Tix
Oct 20 - Volos, GR - Lab Art - Tix
Oct 21 - Athens, GR - Kyttaro Live Club - Tix
Oct 22 - Patras, GR - Giafka
Nov 16 - Waterloo, ON - Starlight - Tix
Nov 17 - Toronto, ON - Lee's Palace - Tix
Nov 18 - Hamilton, ON - This Ain't Hollywood
Nov 25 - Gatineau, QC - Le Petit Chicago
Dec 01 - Québec, QC - Le Cercle - Tix
Dec 02 - Montréal, QC - Groove Nation



For details, see the complete schedule.